At Best Craft Organizer, we have tiny compartments
for your tiny beads.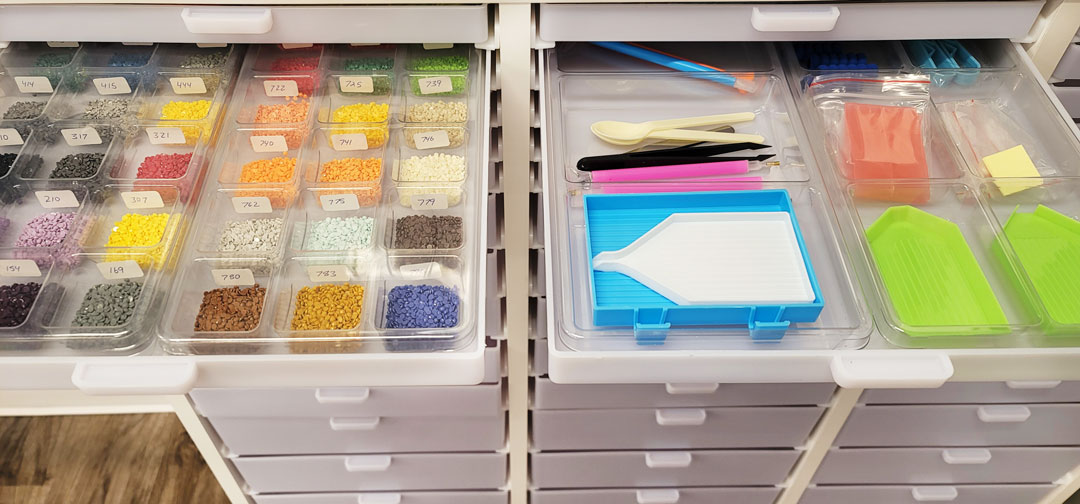 Diamond painting has been under the spotlight lately in crafting circles- and for a good reason! Those tiny faceted beads catch the light unlike anything else, and making a stunning canvas is super easy. If I had to recommend a project to a new crafter, this would be the one.
Diamond painting is a dazzling blend of beading and painting. You can order a kit for a nature scene, an animal portrait (of a beautiful Yorkie, for example), or an inspirational quote, whatever catches your eye. You then match the colored resin diamond to the symbol or number it belongs to, like paint-by-number pictures. It's an affordable, stress-free activity that requires minimal effort and is extremely addicting. By the end, you have a sparkling mosaic artwork you can hang up or gift to a friend.
This craft is excellent for relaxation. I've heard, with my own perked-up puppy ears, that it helps with reducing symptoms of anxiety, increasing discipline and concentration, and improving motor skills. It's a treat to see kids and adults benefit from this brain-boosting craft.
Quick Organizing Tips for Diamond Painting
Label storage compartments with the diamond drill color code.
Organize your diamond drills numerically.
Use your leftover diamond drills for other DIY projects like decorating phone cases, notebooks, or shirts.
Store your diamond drills, applicators, and trays in an organizational unit that is easy to access so you can quickly find what you need for your project.
That last point is our specialty. Best Craft Organizer has the perfect storage tools for diamond painting that will do just the trick. It's as easy as 1,2,3!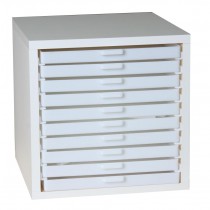 #1 - Pick Your Storage Size

When it comes to organizing your diamond painting collection, a customizable storage solution is the way to go. You can choose a small storage unit like the Storage Cube for smaller collections (although you can fit a howl lot of diamond drills in a small cube) or a Rolling Storage Cabinet for larger collections. We even have a Triple Storage Cabinet for the diamond painting professional.
#2 - Add Your Drawers

What makes Best Craft Organizer Storage Cabinets the ideal storage solution for crafters is the customizable drawer heights. The Single Drawer is the perfect option for organizing your diamond painting collection. You can fit 10 single drawers in a Storage Cube giving you ample room to store your resin diamonds from multiple projects. This small footprint allows you to maximize your space with the ability to organize 360-640 diamond drill colors (18 compartments vs. 32 compartment trays).
#1 - Organize with Drawer Inserts
Resin diamonds are tinier than my paw pads. On average, they're about 2.5 mm in length. Storing them in a way they won't spill or get mixed in with other colors is crucial. The 18 Compartment Half Tray is ideal for storing all the different colored diamond drills. The curved compartment bottom makes it easy to remove or scoop them into your diamond trays. You can even add a cover to keep your diamond drills safe and easy to move to your project area. Additional tray sizes are available for small to large diamond drill collections.
Seasoned diamond painters agree that storing your beads and canvases in a dedicated space makes it easier to jump back in at your convenience. Best Craft Organizer solutions are customizable to fit small to large collections.
Stay organized, stay crafty!
Elphie
Organization Expert
Best Craft Organizer