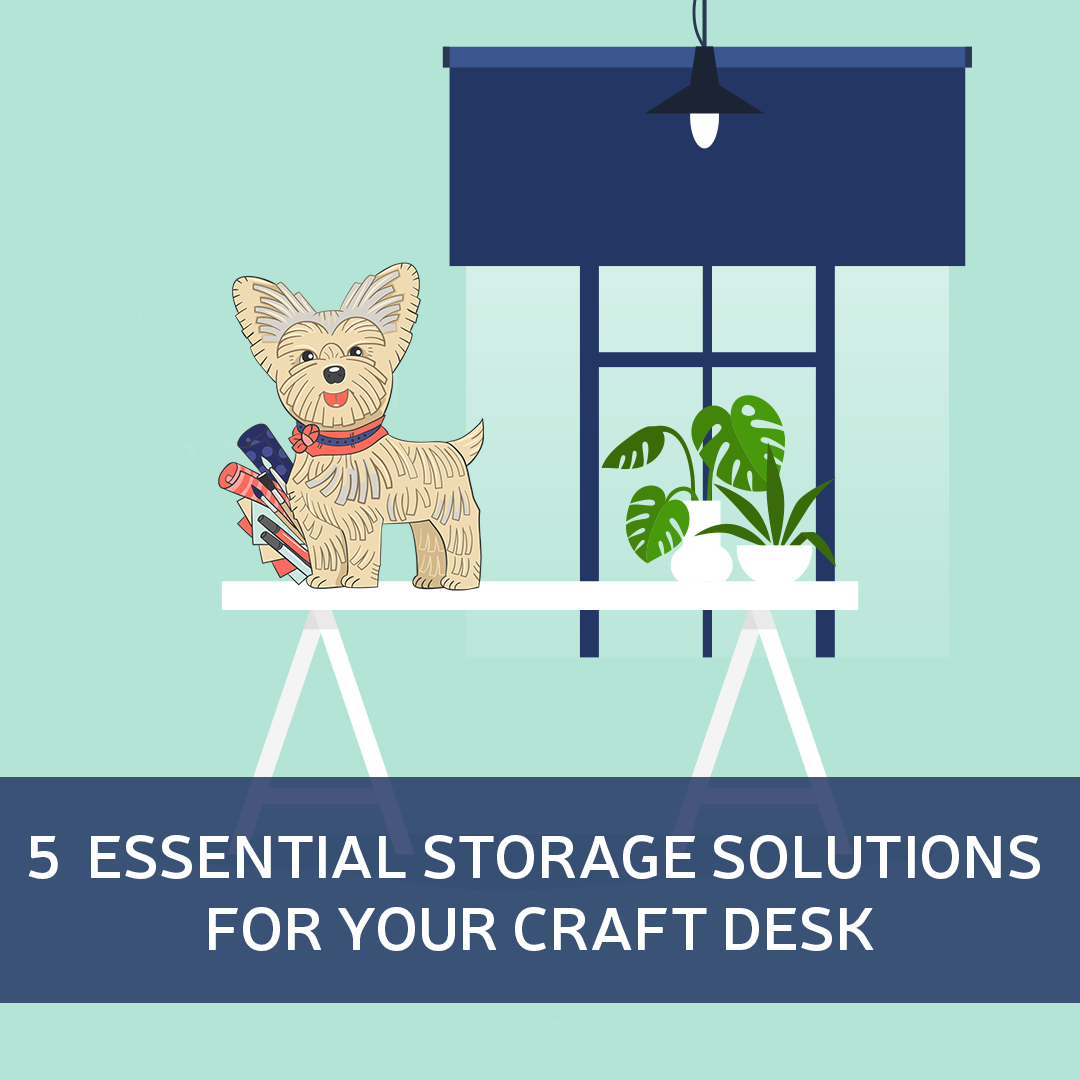 Hello Crafters,
I am Elphie, your crafty canine companion, ready to help you unclutter your desk with storage solutions sure to make your workspace more efficient.
When you sit at your desk working on your paper crafting project, you want your essential tools and supplies at your fingertips. These five storage solutions will keep your tools organized while crafting and easy to access during your projects.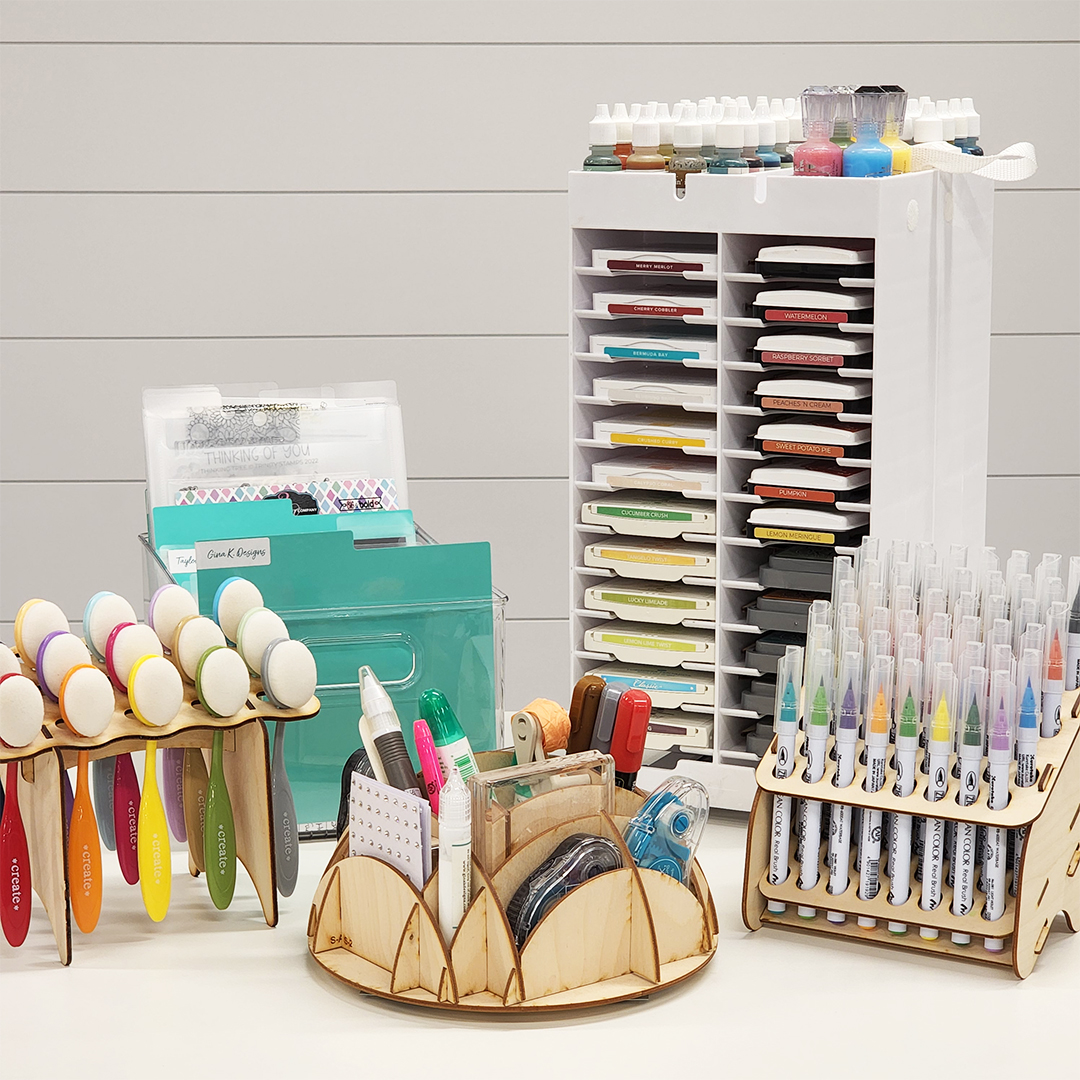 1. THE DESK CADDY
A must-have for any workspace is the Desk Caddy. This fun swivel caddy contains multiple compartments designed to hold various crafting supplies. You can load the spaces with clear acrylic stamp blocks, adhesives, Gina k. Designs Connect Glue, water brushes, pick tools, Cricut® tools, scissors, and more. Large and small sizes are available, making it easy to fit any workspace. The Desk Caddy will be your go-to storage for those most-used essential tools. Assembly is required.
2. THE PORTAINK
A big part of Paper-Crafting is your ink pads and refill bottle collection. The PortaInk Standard Case and PortaInk Dual Swivel Traveler is a convenient way to store all those inks. The large slots allow you to store 24 – 48 large ink pads like Stampin' Up!® (both old and new styles). You can also store smaller pads (Altenew®, Catherine Pooler®, Concord & 9th®, Gina k. Designs®, Lawn Fawn®, Memento®, Simon Says Stamps®, Taylored Expressions, Distress & Oxide Ink by Ranger®, etc) when you add PortaInk Spacers. These handy Spacers keep your inks pushed forward and centered. Refill bottles store easily in the top compartments, so you always have them on hand if your ink pad runs dry.
3. THE BLENDING BRUSH STAND
Whether your Blending Brush collection is large or small, the Blending Brush Stand is the perfect way to maximize your workspace. Each brush has one slot to slip through and hang at an angle, keeping your bristles safe. The open design makes it easy to locate the brush that matches the ink you are blending. The Blending Brush Stand will hold brush heads 0.5"- 1-3/8" and handles up to 4-3/4" long (not including the brush head). Choose between the 10, 15, or 25 Brush Stand to store your brush collection.
4. THE MARKER STAND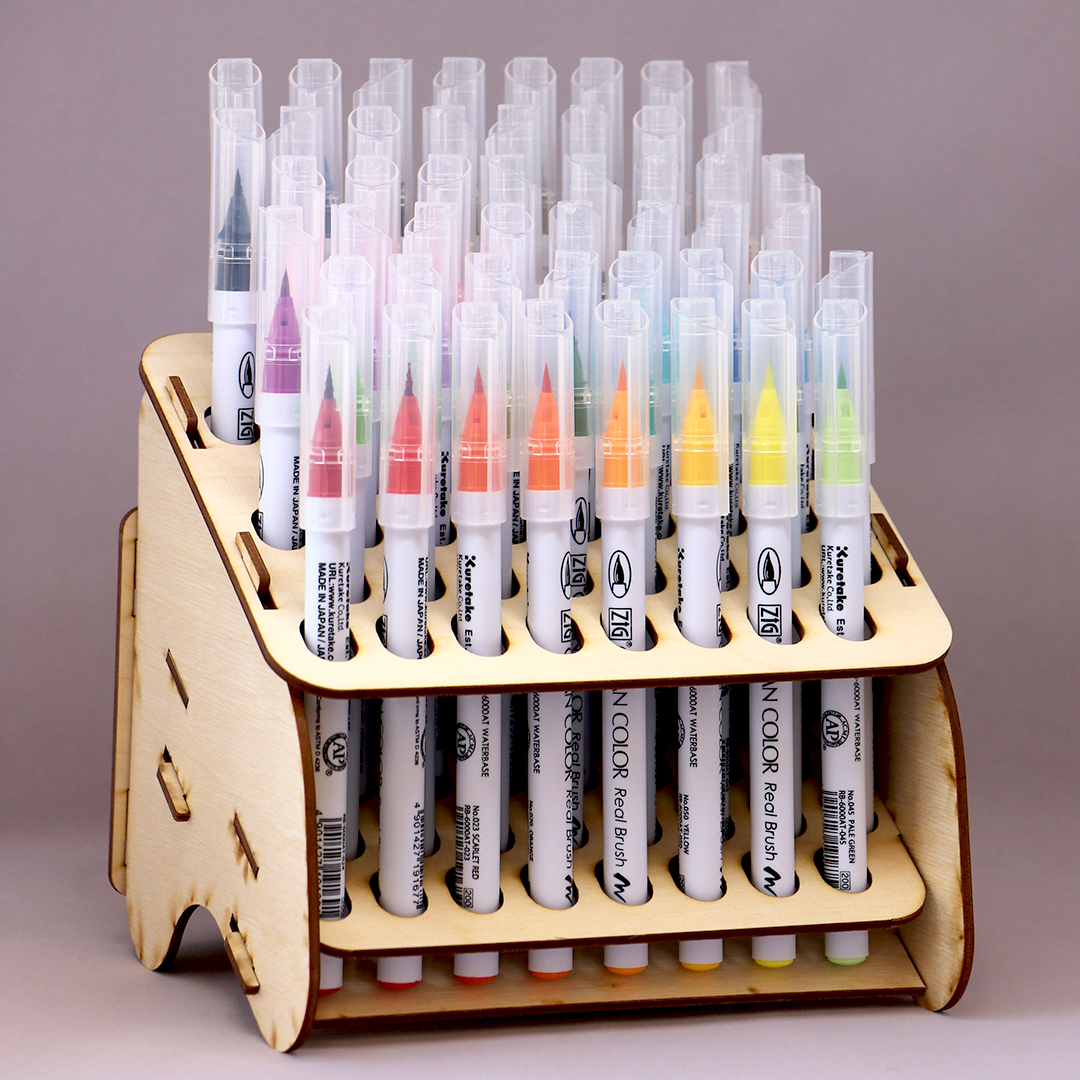 Placing your marker collection on your desk in a Marker Stand or Marker Holder makes illustrating and coloring your project so easy. With all your markers on display, you will always be able to find the right color for your project. Plus, the beautiful array of colors is sure to inspire your creativity. Best Craft Organizer offers various vertical and horizontal storage solutions to store your marker collection. The Side-by-Side Marker Holder is an excellent option to keep your Copic®, Spectrum Noir™, and Prismacolor® markers flat (horizontal). For markers that need to be stored vertically, like Karin® Brushmarker, Zig® Clean Color Real Brush, and Close to My Heart® Shimmer Brushes, choose a Marker Stand.
5. THE ACRYLIC CRATE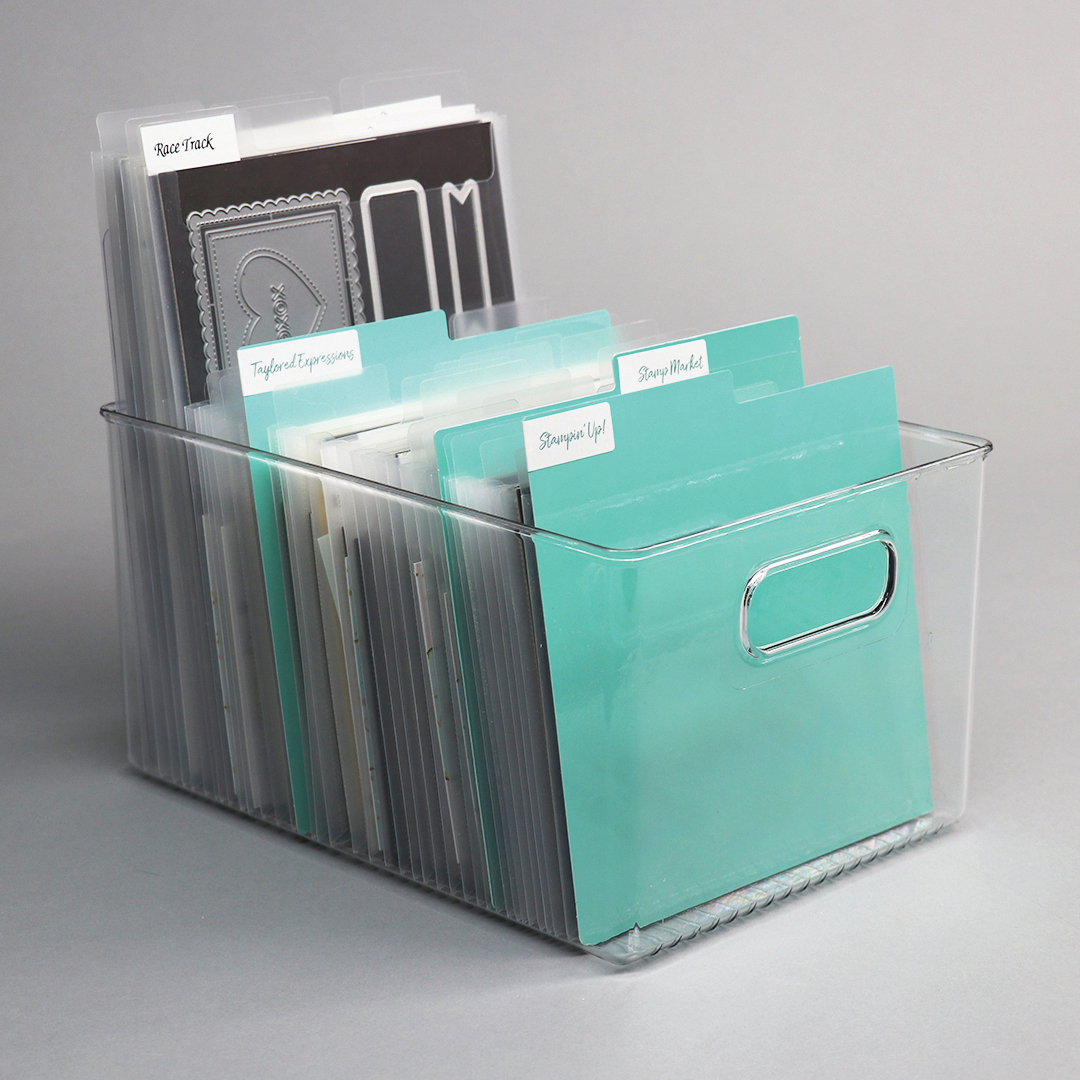 The Acrylic Crate is the perfect size for organizing your wafer die cuts, cling stamps, stencils, and embellishments. These lightweight clear craft storage bins fit nicely on your desk, and the dual handles make them easy to transport. Pair the Acrylic Crate with 6x7 & 9.5x7 Magnet Cards, Stamp Cards, and Storage Pockets to manage your collection of craft supplies.

How to Organize with Magnet Cards, Stamp Cards, and Storage Pockets:
Magnet Cards by Stamp-n-Storage are strong enough to hold even the smallest die cut in place, and the decorative back is not just for looks! The glossy back will also hold your cling stamps. Now you can keep your dies and stamps all on one card.
Stamp Cards by Stamp-n-Storage are designed to hold your cling and rubber stamps. Just remove the protective coating from each side of the Stamp Card and add your stamps. It's that easy! And with two sizes to choose from, 6"x7" and 9.5"x7" (Slimline), you can manage any stamp collection.
Storage Pockets by Stamp-n-Storage are a must-have for any crafter. They are sized perfectly for the Magnet Cards and Stamp Cards to slide inside, and the tab makes them easy to label. Storage Pockets are also a great way to store your embossing folders, stencils, and embellishments.
Adding one or more of these storage solutions to your workspace will keep you organized and ready to tackle any project.