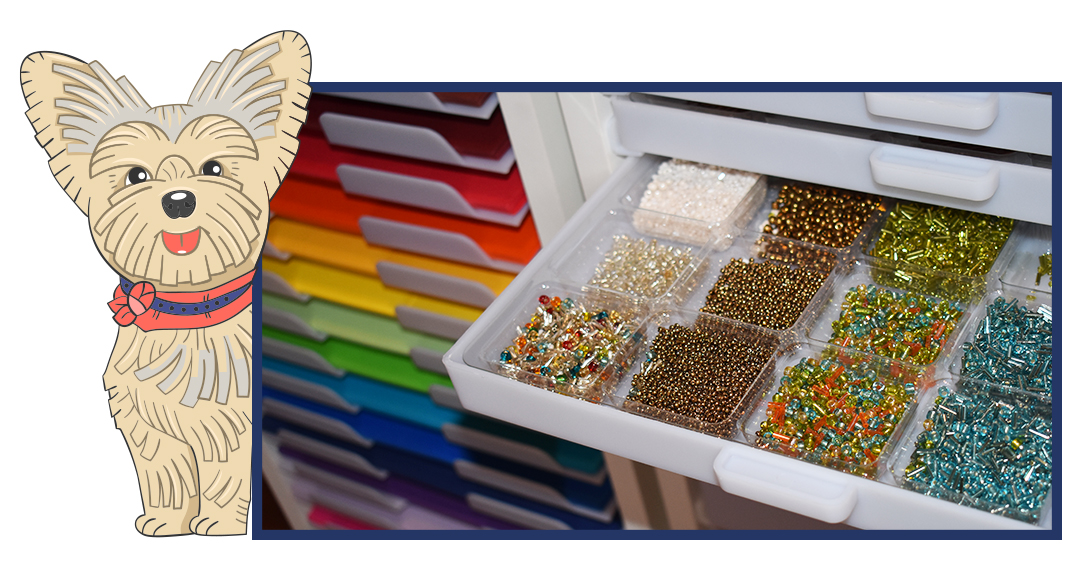 Elphie here! Best organized canine crafter.
While I've been busy chasing my tail, our team at Best Craft Organizer has been working hard to create a collection of beautiful storage cabinets to fit your needs. I thought I'd give them a paw and show you a few options that will keep your space organized so you can stay crafty. Each Storage Cabinet option is available in a white or maple finish.

ROLLING STORAGE CABINET
I thought rolling over was my special trick, but it turns out these cabinets can do it too. OK, maybe it doesn't roll over, but it does roll! Very versatile and easy to configure, these rolling cabinets are available in two sizes. The Standard size offers 18 spaces to customize with paper shelves or drawers. The Large Rolling Cabinet features 36 spaces to customize. The Rolling Storage Cabinet is a great option for storing a full variety of craft supplies.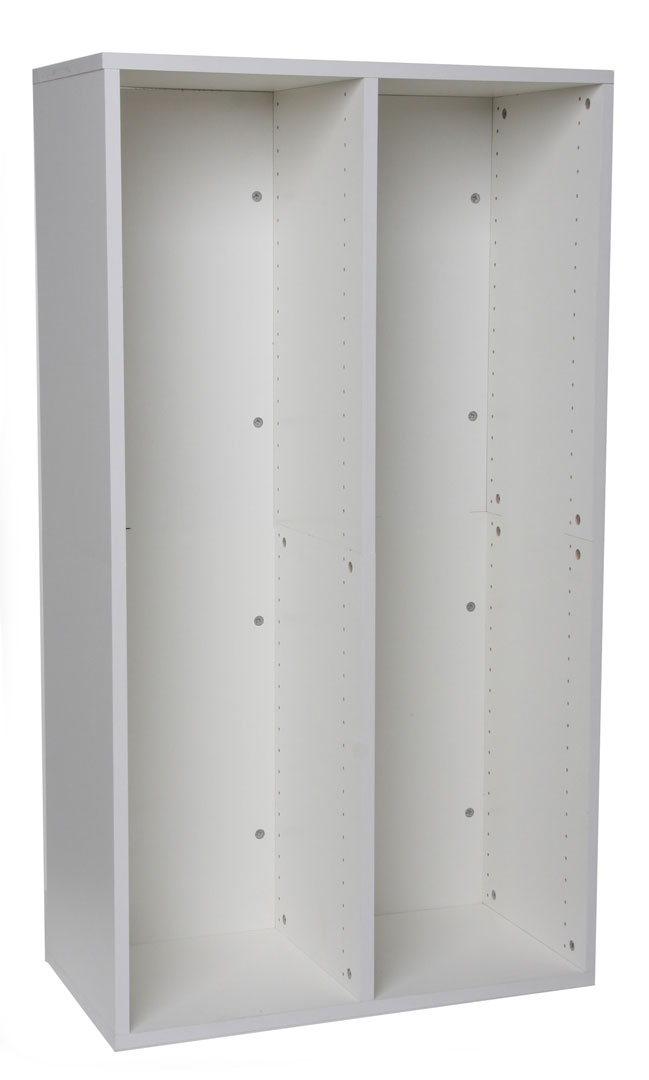 DOUBLE STORAGE CABINET

If you are looking for a bit more space, the Double Storage Cabinet might be a great choice for you. With a Standard and Large option, you'll be able to customize 36-72 spaces with paper shelves and drawers. You can even mix and match to fit your needs. I love using one section for drawers, and the other for paper.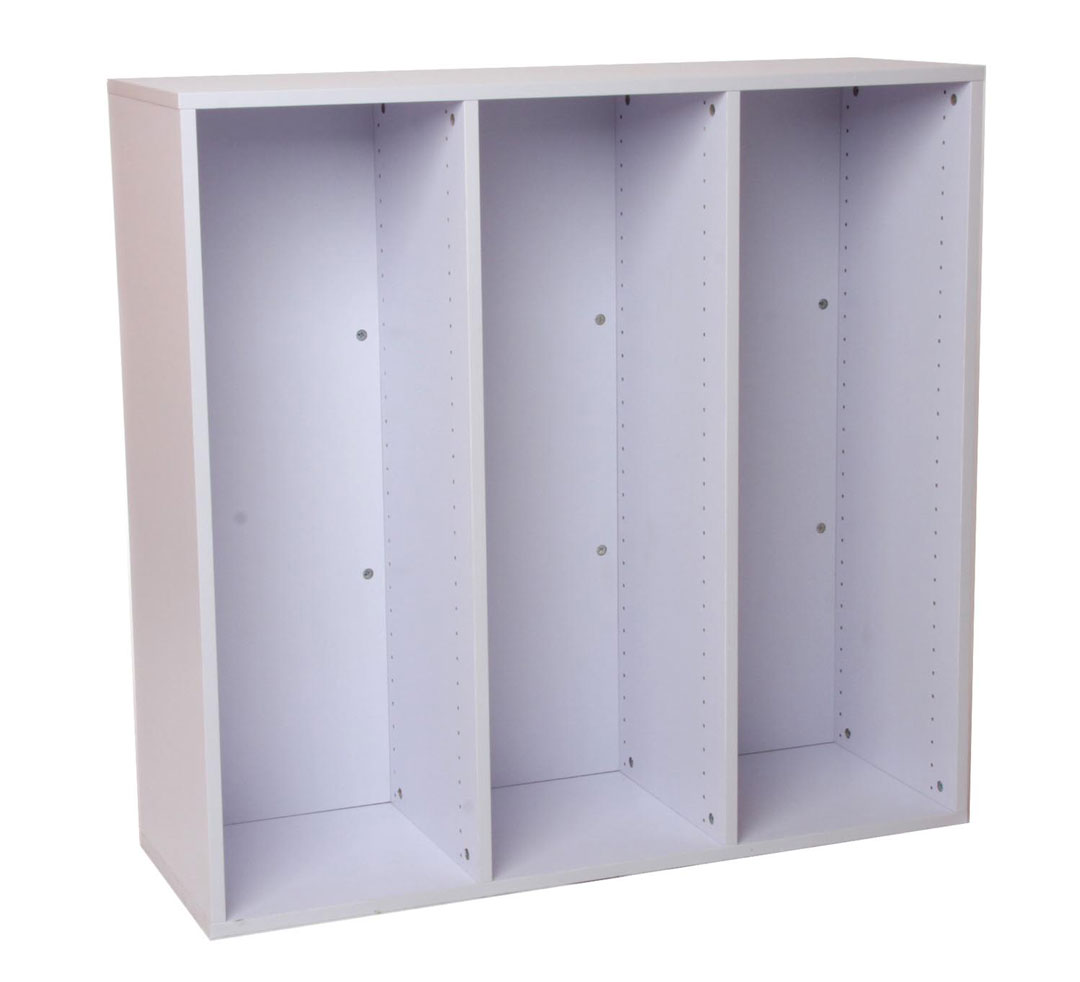 TRIPLE STORAGE CABINET
They say that 'the best things come in threes' and in this case, this is certainly right. The Standard Triple Storage Cabinet has 90 spaces, and the Large option offers 144 – that's a 'howl' lot of storage!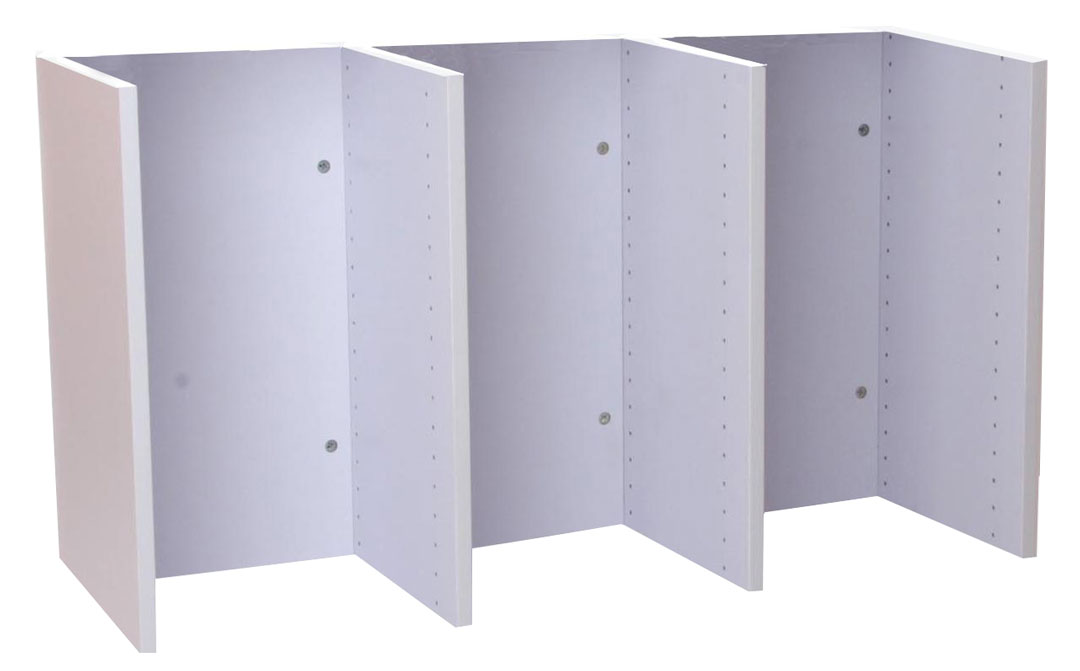 CABINET ADD-ONS
If there's one thing I find more frustrating than being kept on a short leash, it's not having enough places to store my crafting supplies. Introducing Cabinet Add-Ons, the economical way to add more paper trays and drawers to your existing craft space in stages! The Cabinet Add-Ons can be added to your Single, Double and Triple Storage Cabinets. This is a great way to expand your cabinets, adding 18 more spaces per section.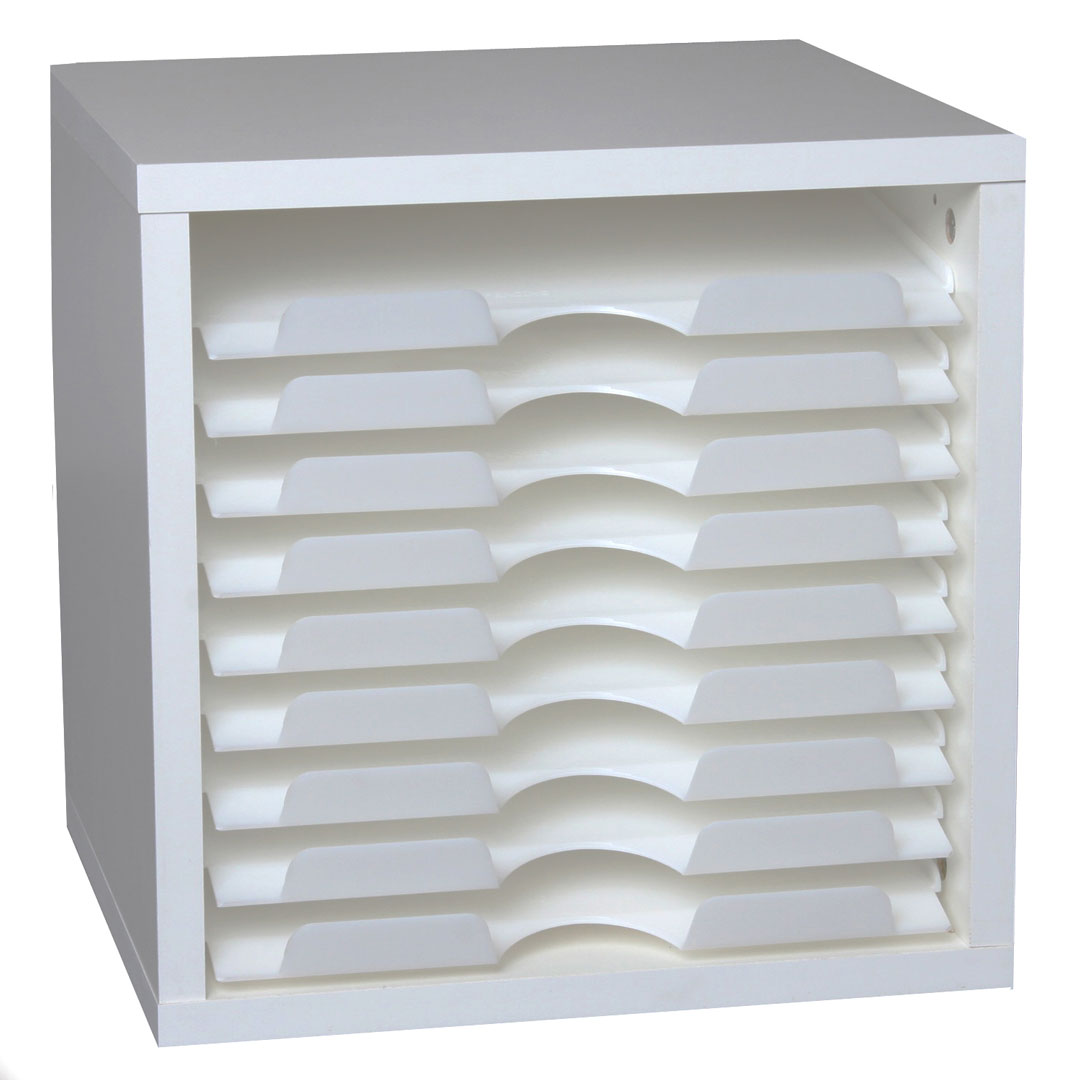 STORAGE CUBE
Trying to sniff out a more compact cabinet for your craft room? Fortunately for you, I've already picked up a scent... The Best Craft Organizer Storage Cube is small, boasts an attractive design for a stylish addition to your workspace, and is the ultimate space saver. Your ideal storage system also gives you the use of 10 available spaces to customize – perfect! Paper Shelves sold separate.
Now it's time to customize your Storage Cabinet with Drawers and Paper Shelves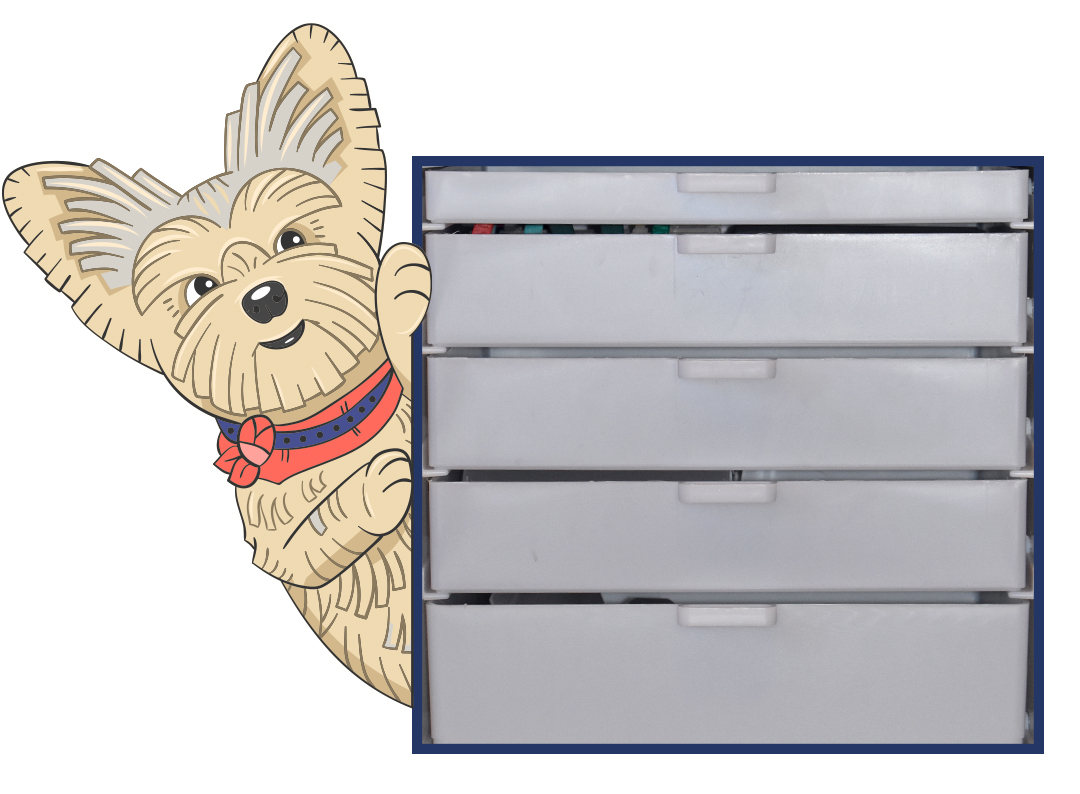 DRAWERS
Us canine crafters love nothing more than practical storage and I for one can't wait to get my paws on these drawers. Their modular design means you can choose the size and quantity that will work best for your personal collection of supplies. You can choose Single (1" height), Double (2-1/4" height), or Triple (3-3/8" height) drawers, or mix and match to best fit your supplies.
Here's what one of our customers has to say about them…
"Being able to choose the drawer size makes it so easy to personalize for just the items you need to store and save on wasted space."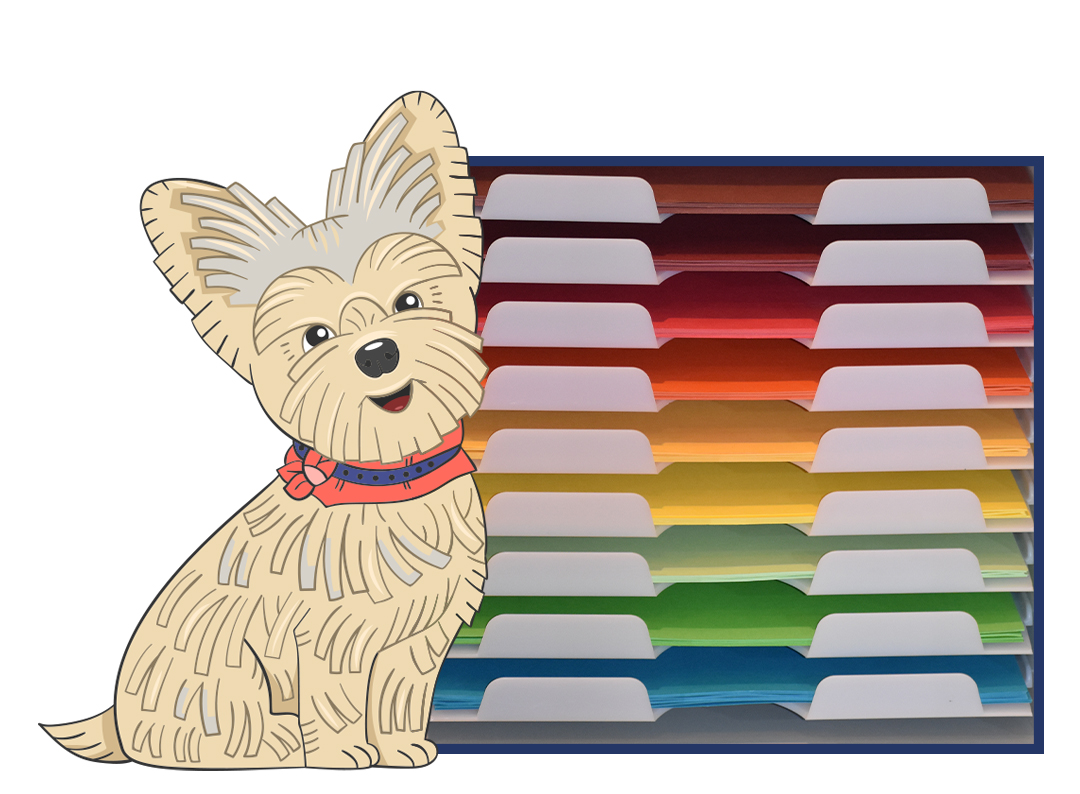 PAPER SHELVES
The Paper Shelves are perfect for keeping paper visible, the shelf tabs are great at stopping the paper from sliding out, and the circular cut-out makes it easy to pull out the sheets I need. Your shelves are at an angle keeping all your paper visible and easy to access. The pretty colors displayed just makes me wag my tail!
I hope you enjoyed these fantastic options for organizing your craft space. Being able to customize cabinets to fit your needs makes it easier to add storage solutions that will help you stay organized so you can stay crafty!