At Best Craft Organizer, we love seeing your crafty spaces! Charlene recently sent us a photo of her (3) Extra-Large Triple Storage Cabinets and we loved how she labeled every drawer, making it easy to find her supplies. She even used a fun font to match the decor of her space.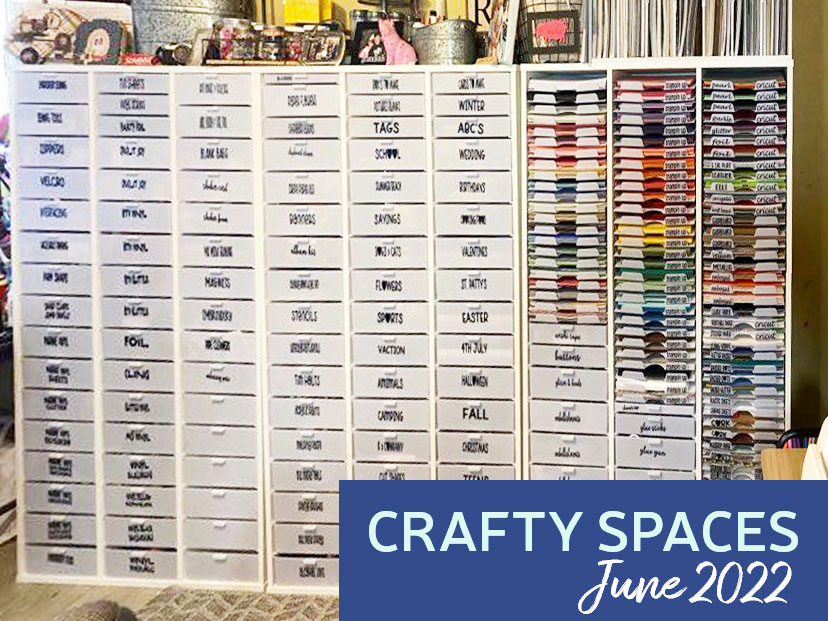 Let's Meet Charlene...
BCO: Charlene, tell us about your crafting background.
Charlene: I started sewing at 11, and still sew today. I also use an embroidery machine. In 1994 I started making cards with stamps, and in 1995 I started scrapbooking.
BCO: How did you plan the layout of your space and where you wanted your Storage Cabinets?
Charlene: I've been crafting in the same room for 25 years and I was just trying to keep things organized. The layout was a bit of trial and error. It wasn't always the easiest way to get to product. When deciding on the final layout of my Storage Cabinets, I knew I wanted to keep them all on one wall in my craft space. My husband calls my craft room the Craft Cave.
BCO: Which supplies were the most difficult to organize and what was your solution?
I wanted everything in drawers so my stamp sets were the most challenging. I just didn't want things visible so I used the Container Store drawers to keep my stamps.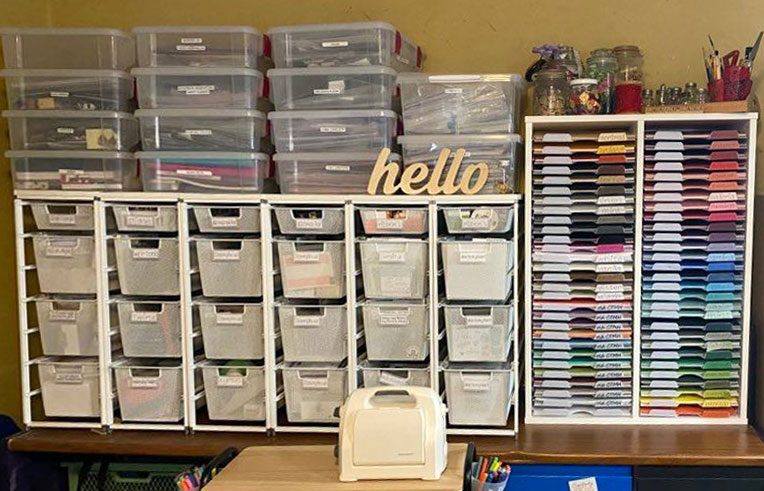 BCO: How did you organize your paper?
I LOVE your paper trays! They keep my cardstock so easy to access. I have them labeled by company and then by color. After I ordered the first set of cabinets, I decided I want my most used paper closer to me to I added a smaller unit on my desk.
BCO: What is on the inside of the drawers?
I organize my drawers by theme. So for my scrapbooking I have drawers that have specific items like Easter, Winter, School, Teens, etc. I also organize by supplies like foil, velcro, zippers, and embellishments. I really like how I can take an entire drawer to my desk when I'm working on a project.
BCO: How has staying organized inspired your creativity?
Best Craft Organizer's system has made my creativity 100% easier. I can find everything, get to it easily, and it cleans up quickly.
BCO: If you had one organization tip to share with others creating a craft space, what would it be?
Invest in storage solutions that work in your space. The cabinets are worth every penny I have spent and are so customizable for crafters. I also put all the cabinets together myself after having a full knee replacement two months ago. Your system can be assembled by anyone. I'm happy to say I have six empty drawers, so I met my goal of getting everything put away. I do have a paper problem though!
---
Thank you for sharing your space with us, Charlene! If you would like to inspire craft organization ideas, or win a $50 Best Craft Organizer store credit, send us pictures of your craft space for a chance to be a Crafty Spaces winner!
Here are a few tips from Elphie: clean up your space, snap some photos (4 or more) from a few different angles, and include some comments about what you love about your area and your Best Craft Organizer products. You will be entered into our monthly drawing. Email your entry to elphie@bestcraftorganizer.com