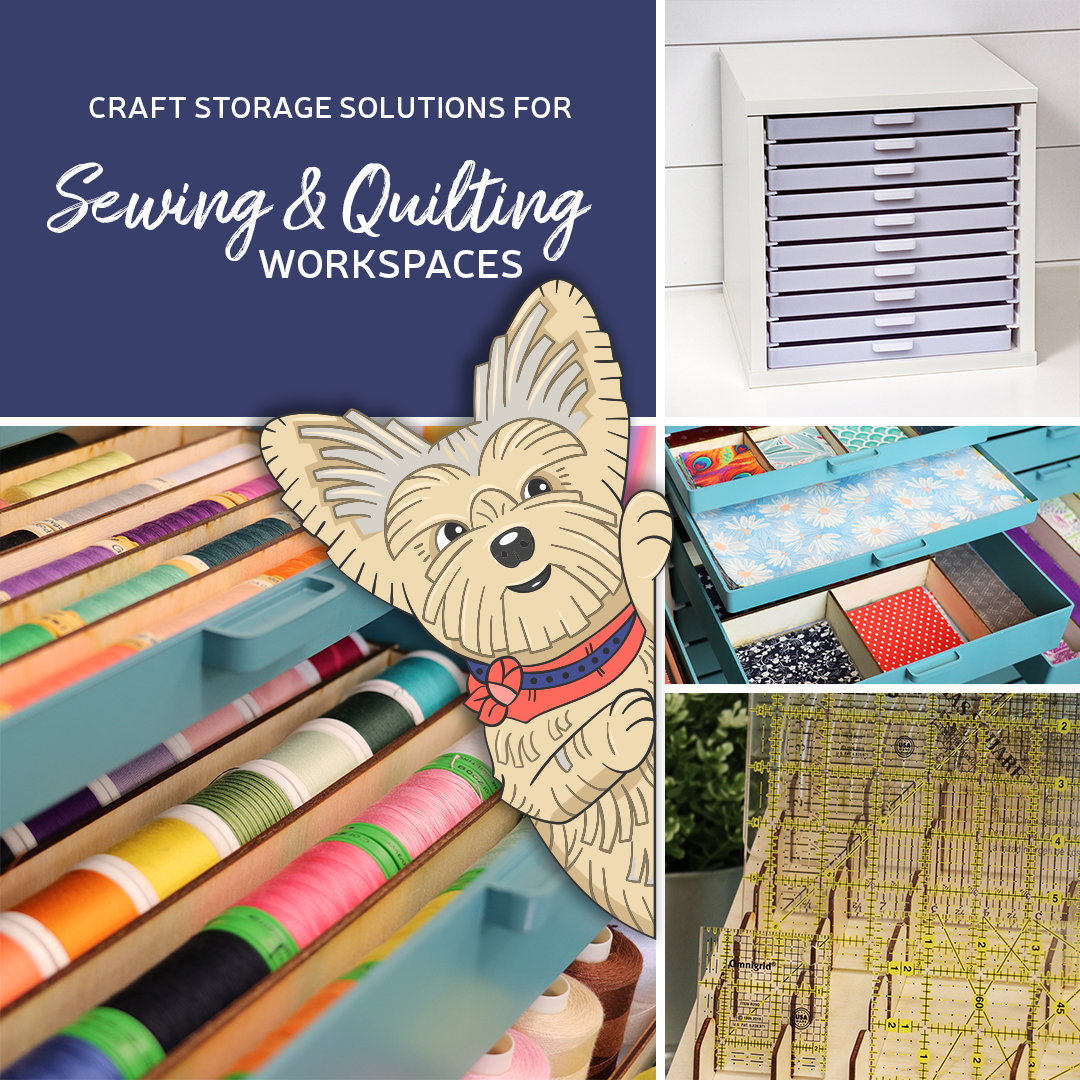 Hello Sewers and Quilters,
I am Elphie, your crafty canine companion, ready to help you organize your workspace with storage solutions to make your sewing area more efficient.
When you are ready to start your next quilting or sewing project, you want your essential tools and supplies close by and easy to find. These essential storage solutions will keep those tools organized and easy to access.
Storage Cube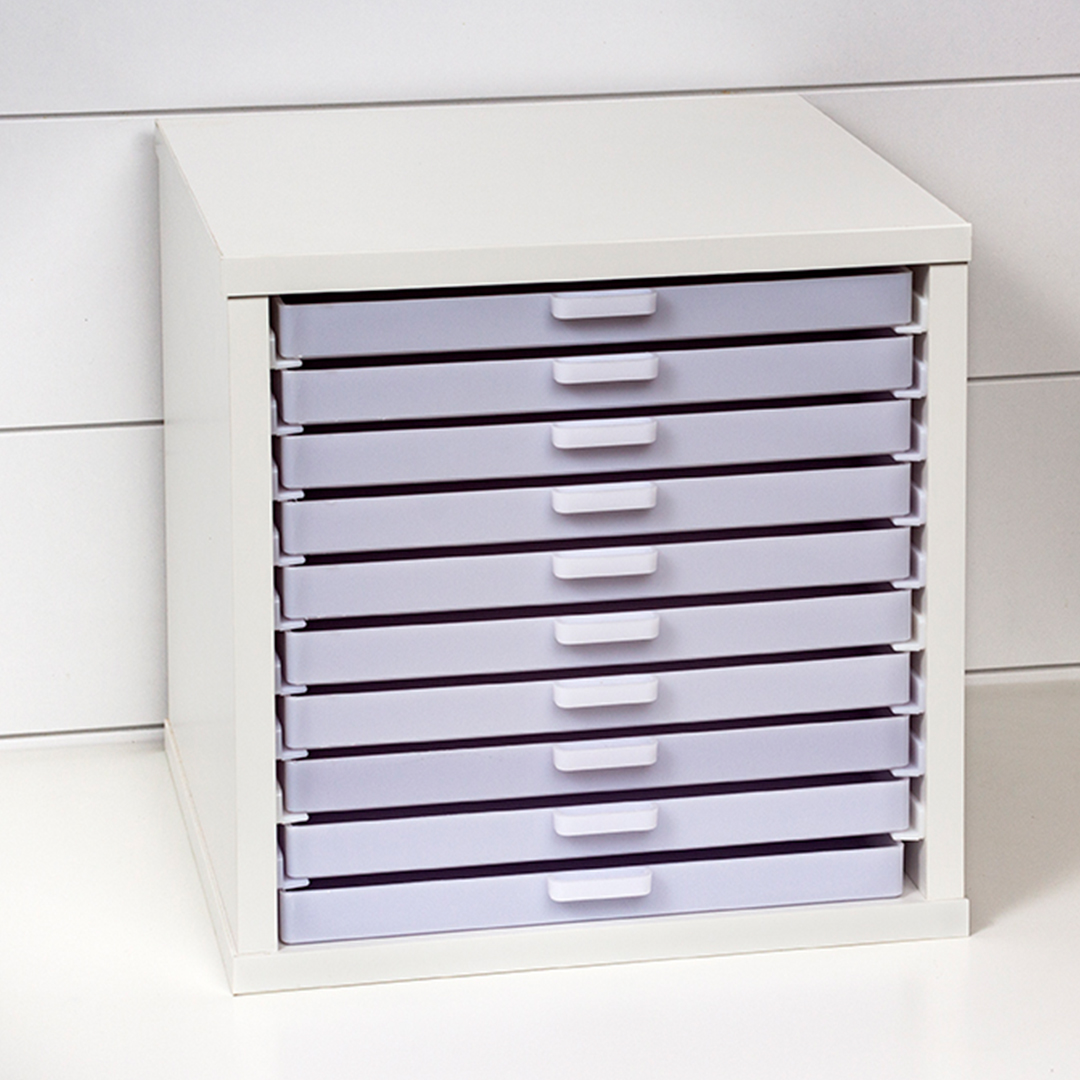 The Storage Cube is an excellent addition to any workspace. With Single, Double, and Triple Drawer options, you can customize the Storage Cube to organize so many supplies. Add the Drawer Accessory Trays and Half Trays to capture buttons, brads, bobbers, beads, eyelets, fabric clips, hook & eye fasteners, measuring tapes, needles, sewing machine parts, snaps, tape, Velcro, and tools.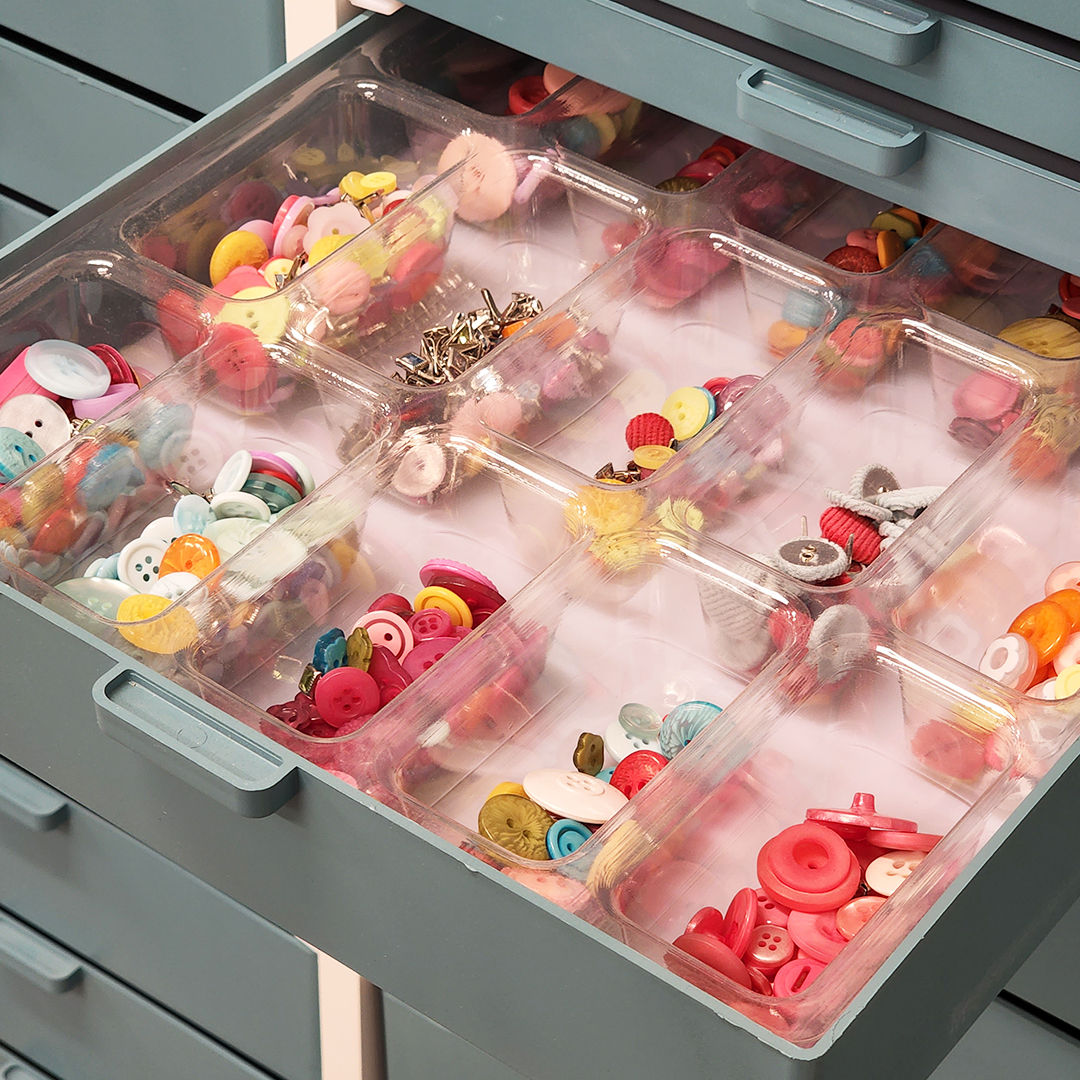 The Thread Grid Storage System works great to manage your thread, and the Fabric Grid Storage System will organize your fabric scraps. Need more storage? Add a second Storage cube by stacking them.
Desk Caddy
A must-have for any workspace is the Desk Caddy. This fun swivel tool contains multiple compartments designed to hold various sewing tools. You can load the unique spaces with fabric shears, scissors, rotary cutters, replacement blades, seam rippers, chalk wheels, wax pencils, and more. Large and small size Desk Caddies are available, making it easy to fit any workspace. Assembly is required.
Ruler Stand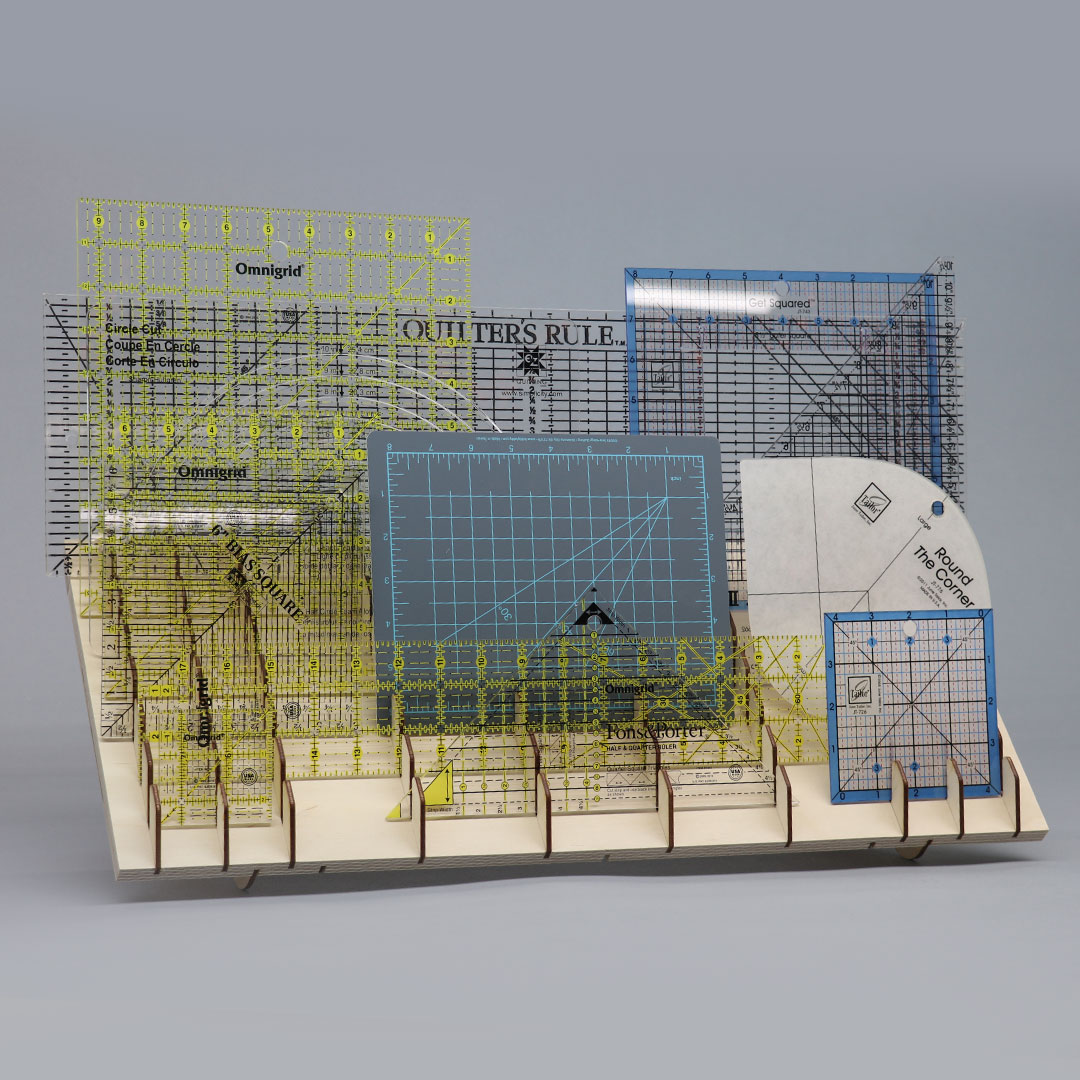 A big part of quilting is where to store all those rulers. The Ruler Stand makes that easy. Its unique design keeps your rulers upright, and the laser-cut legs make it easy to grab and move the Ruler Stand to your project area. The Ruler Stand has seven rows, providing room for multiple rulers and storage from the tiniest ruler to the largest at 22". Not enough space in your workspace? The Ruler Stand will easily mount to the wall.
The Maker Nook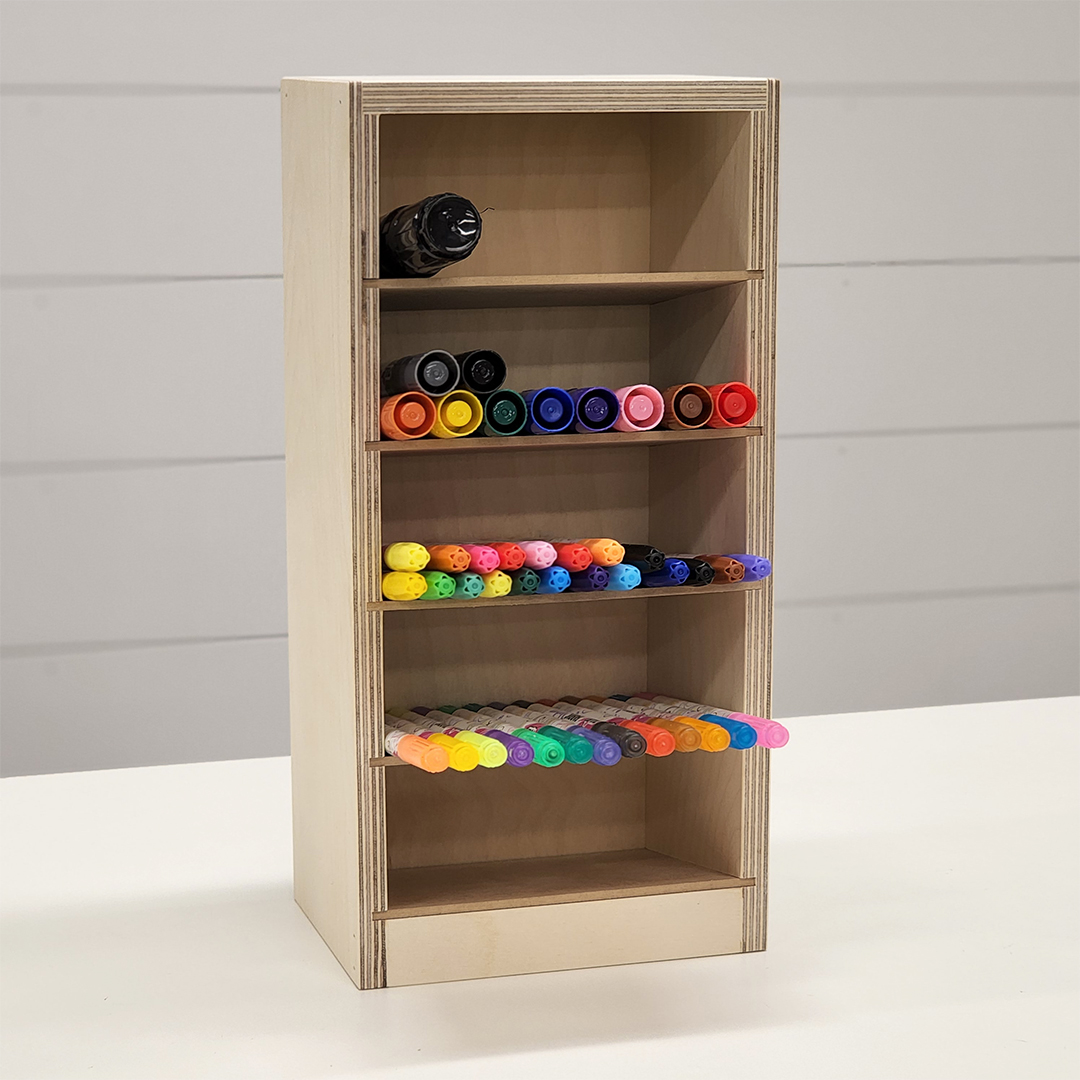 Fabric Markers are so fun to use, so why not display them on your desk? The Marker Nook is an excellent option for organizing your Tulip® Dual-Tip Fabric Markers, Tulip® Fine Writer Fabric Markers, the large Fabric Paint Markers, and Broad Tip Markers. Displaying your markers will not only add color to your workspace but will also inspire your creativity!
Acrylic Crate
The Acrylic Crate is the perfect size for organizing fabric, sew-on appliques, and sewing patterns. These lightweight clear craft storage bins fit nicely on your desk, and the dual handles make them easy to transport. Pair the Acrylic Crate with Storage Pockets to label your sewing patterns or store embellishments, sew-on appliques, zippers, etc. Storage Pockets are available in 6"x7" and 9.5"x7", and the handy tab on top makes labeling easy.
Adding one or more of these storage solutions to your workspace will keep you organized and ready to tackle any sewing or quilting project.
I am so excited [wagging tail] that I was able to help you unclutter your workspace. I am always ready to help you organize your supplies and tools. These additional blogs may interest you: Organize your Thread Spools and Keep your Fabrics Pristine and Organized.
Woof,
Elphie