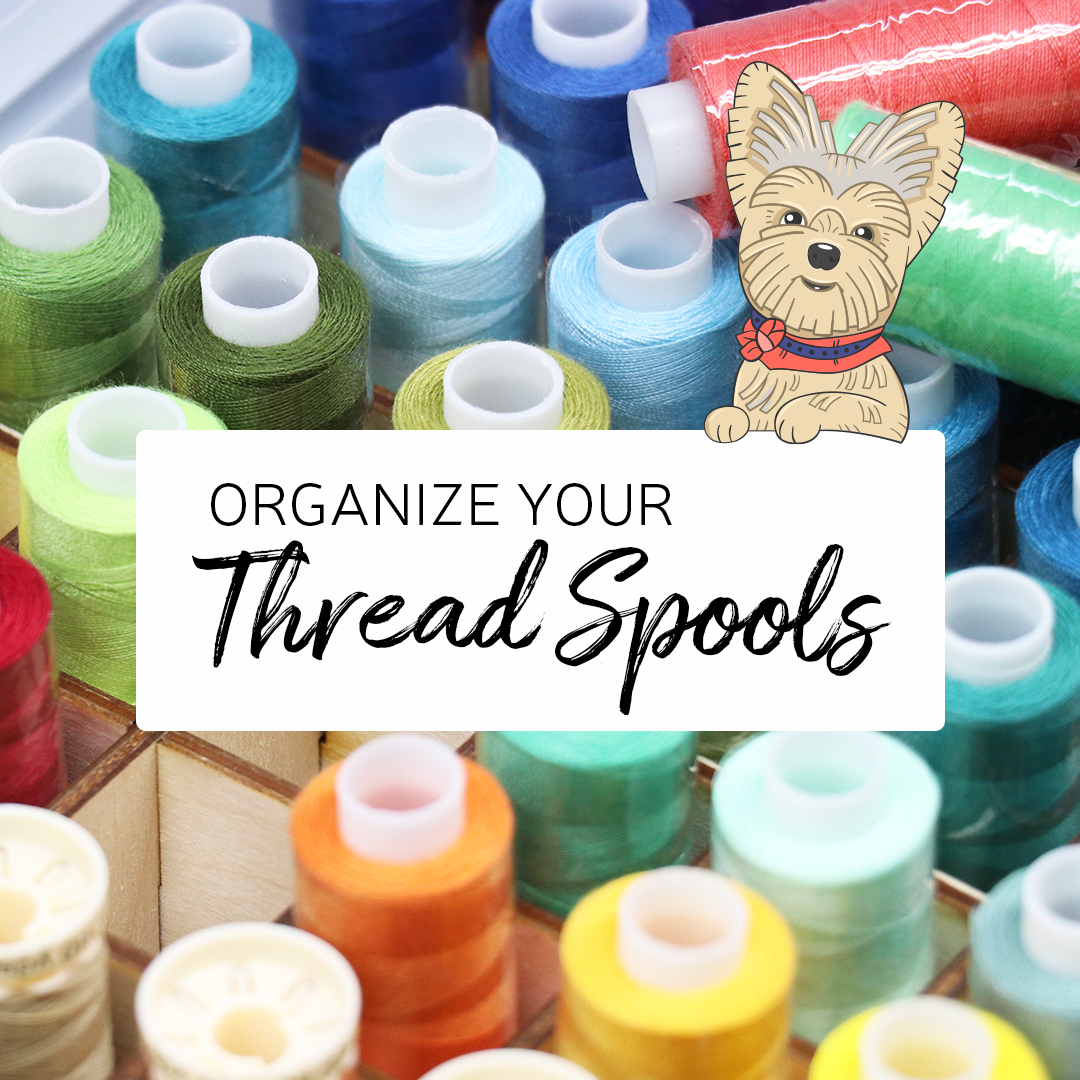 It's So Much Easier to Sew
When You Can See Your Thread Collection
Welcome back, Quilters and Crafters. It's me, Elphie, back again with some more organizational tips for quilters.
Last week, we focused on Organizing your Fabrics. Fabric is the foundation of every quilt. However, what's a fabric collection without a thread collection? They're like peanut butter and jelly - or puppies and treats! It's common for quilters to have more than 50 spools of thread to match the color of the fabric they're working with. Storing your thread in one place is crucial for locating the color you need quickly.
Best Craft Organizer has a few solutions to keep your thread spools nicely packed and ready to go. Whether you are quilting at home or going to a quilting circle at a friend's house, these tools will be perfect to grab-and-sew.
Thread Grid Storage System
If you love an organized drawer, you will love the Thread Grid Storage System. These handy grids fit in the drawers of the Best Craft Organizer Storage Cabinets. You can use the Thread Grid Storage System to neatly stack your thread or lay your thread down sideways for even greater visibility. You'll be satisfied and amazed at the colorful display and quick to grab what you need when you need it.
The Thread Grid Storage System comes in a variety of sizes. The number of rows in this storage system varies, but it can accommodate spools of thread in the following sizes:3/4", 1-1/4", 1-1/2", 1-3/4", and 2".
The Thread Grid Storage system uses a sturdy and aesthetically pleasing Baltic Birch with distressed edging. The design consistency with our other grids makes for a very satisfying storage space you're sure to love.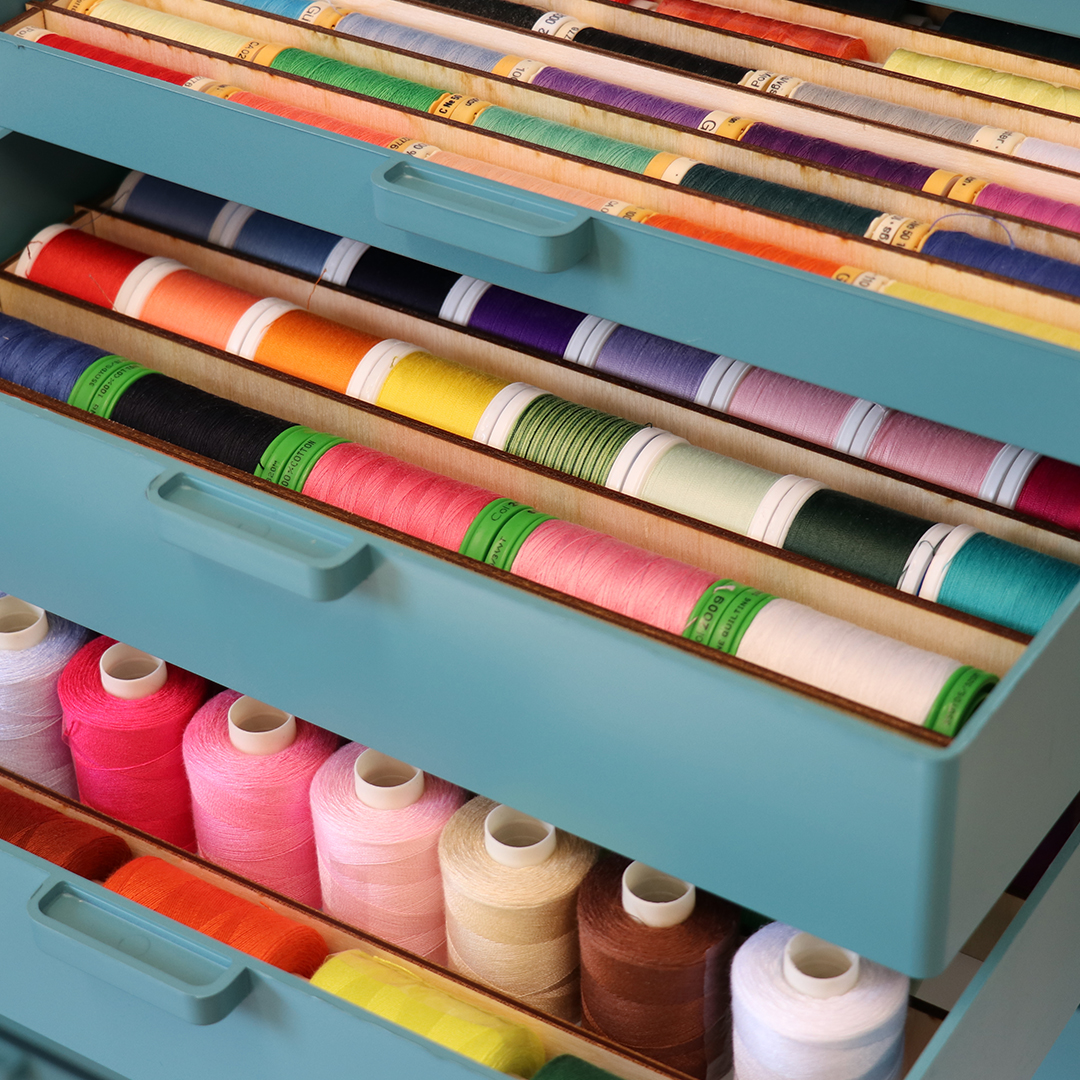 SHOP THREAD GRID STORAGE SYSTEM

SHOP STORAGE CABINETS AND DRAWERS
Thread Wall Box Grid
The Thread Wall Box Grid is a perfect accessory for the beloved Best Craft Organizer Wall Box. The Wall Box is one of my favorite organizing tools because it is fantastic for saving desk space and storing smaller items on the wall. It's portable too, so you can take it from the craft room to anywhere outside the house. Who doesn't love a change of scenery? It can store many craft supplies, but when paired with the thread grid, it's ideal for keeping spools of thread. You can organize between 15-60 spools in one box depending on its diameter: 3/4" spools, 1" spools, 1-1/4" spools, 1-1/2" spools, and 1-3/4" spools.
The grid pieces fall into place like a puzzle and allow you to customize your storage to your needs. These light-colored wooden grids are made from Baltic Birch and are laser cut to create a beautiful distressed edge detail. They're of excellent quality and great value.
Once you put the grid pieces into place and set them inside the wall box, you can arrange your thread by color, thickness, or put the ones you use the most in one place. Whatever is most convenient for you and gets your creativity going.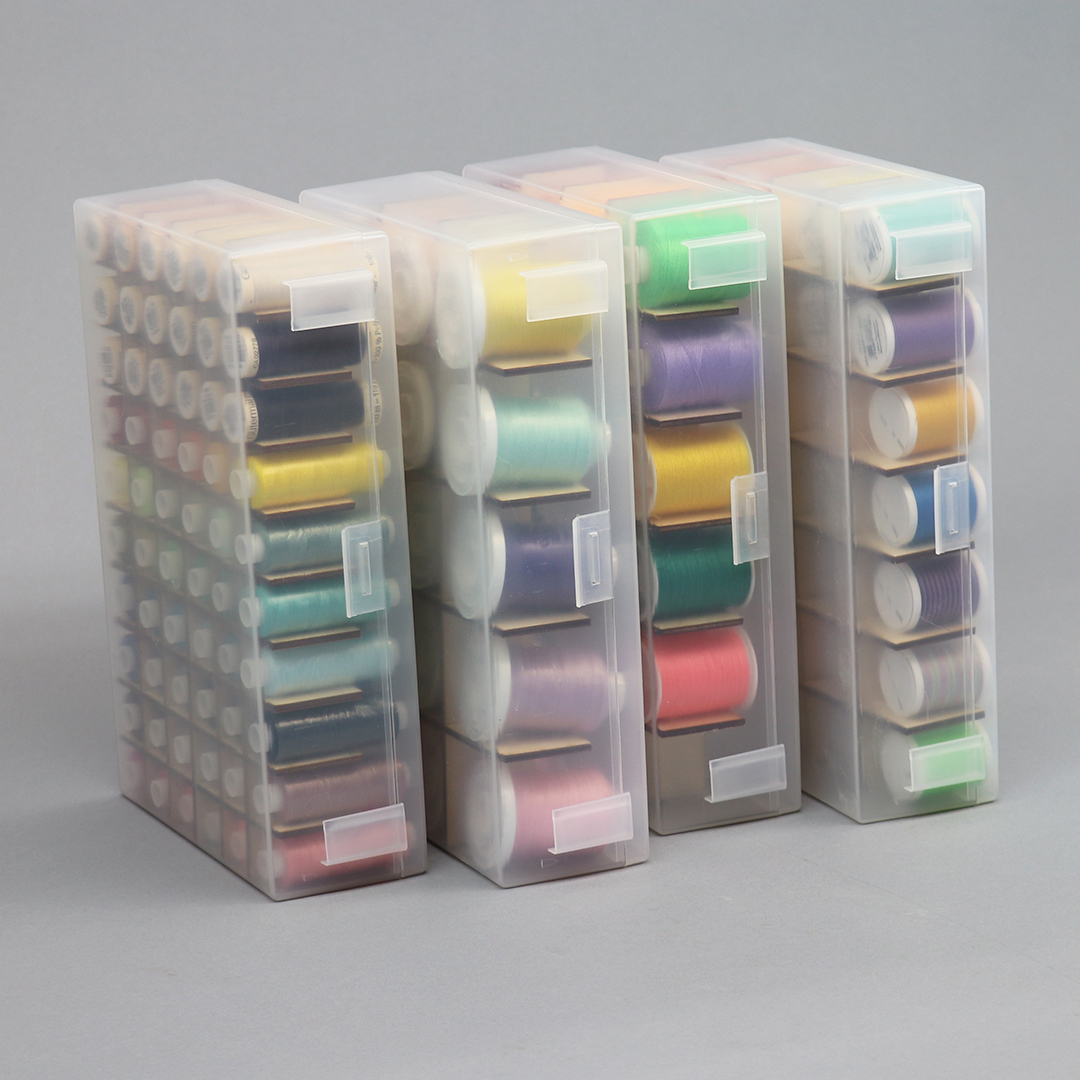 Get Threading Faster Than Ever
Whether you prefer your thread spools right side up or laying down, Best Craft Organizer has the right storage solution for your precious thread collection. The Thread Wall Grid and Wall Box combo are ideal for our more mobile quilters that want to sew at home or somewhere else for a group project. And the Thread Grid Storage System works the best for homebodies that love to pull out their thread drawers and see every color available. Whichever tool you choose, you'll be able to thread your needles faster than I can catch my tail (and that's pretty fast!).
Stay Crafty Friends,
Elphie
Organization Expert
Best Craft Organizer