We are excited to introduce the June winner of Crafty Spaces. Hanna has created a space that is both functional and gorgeous. We are sure it will inspire some ideas for your own space.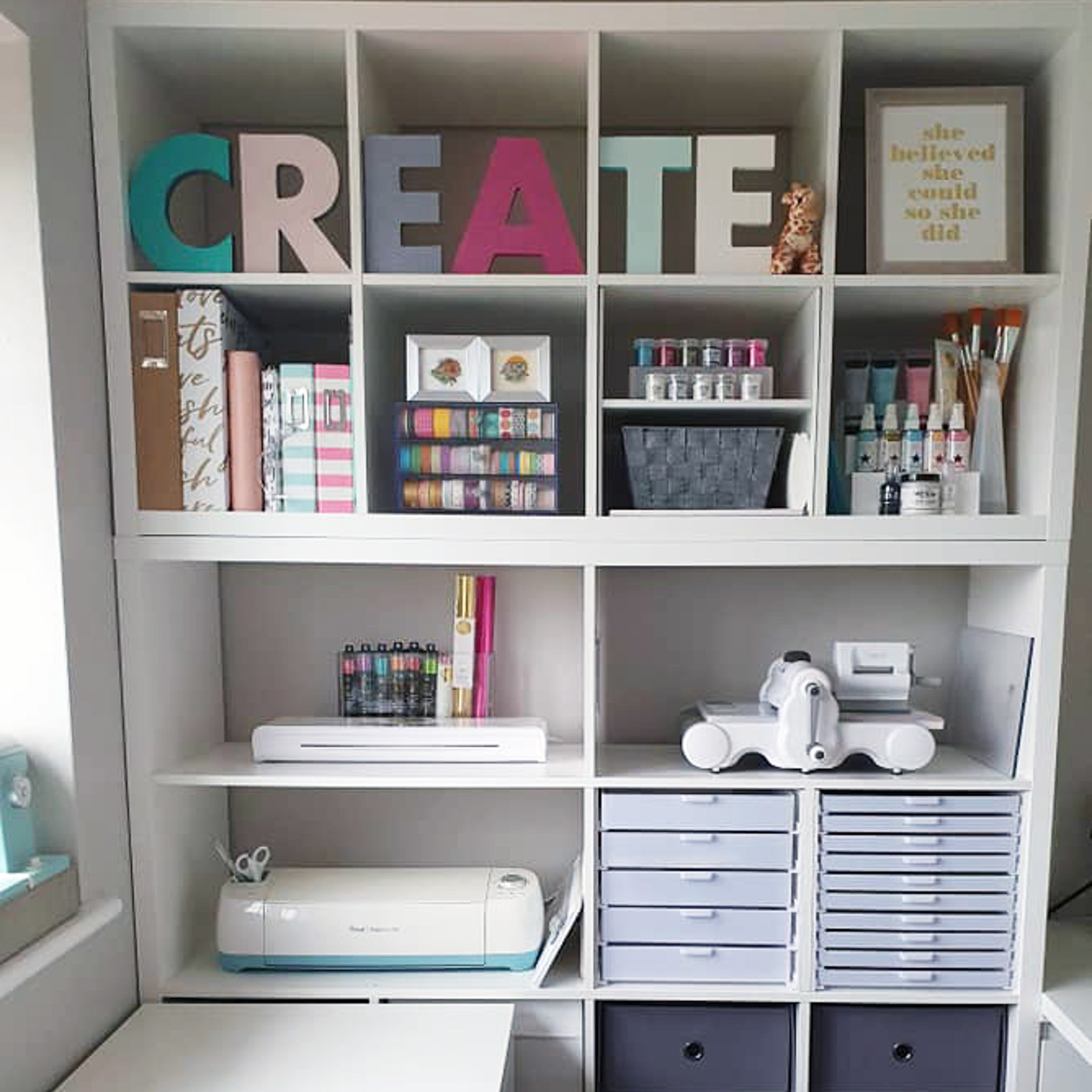 Let's meet Hanna...
BCO: Hanna, tell us about your crafting background.
HANNA: I was introduced to paper crafts and scrapbooking by my younger sister about 6 years ago. A year later I moved from Australia to the UK and brought my new hobby along with me and have spent the past 5 years creating my craft room. I enjoy all forms of paper crafts, my favorite being scrapbooking, memory keeping and One Little Word. I also enjoy card making, stamping and memory dex cards.
BCO: What is the size of your craft space?
HANNA: My craft room is made up of 3 walls of a bedroom. The 4 th wall being a wardrobe that I used as a spare cupboard. The dimensions of my space is approximately 8.75' x 7' x 5'.
BCO: What was the design process of your space and where did you find ideas that inspired your choices?
HANNA: After trying out some other ideas first such as a corner desk and paper stands, I realized that I wasn't utilizing the floor space effectively, I was leaving gaps here and there and the room did not feel whole and cohesive. I had to think about what I really wanted in my room and how I wanted it to feel and function. I needed everything to be within easy reach and accessible. I needed less furniture and to use the furniture I have in a clever way. Lastly I needed light.
I was drawn to minimalistic and clean lines when looking for inspiration on Pinterest and Youtube channels. With this plan in mind I started to create my new craft room.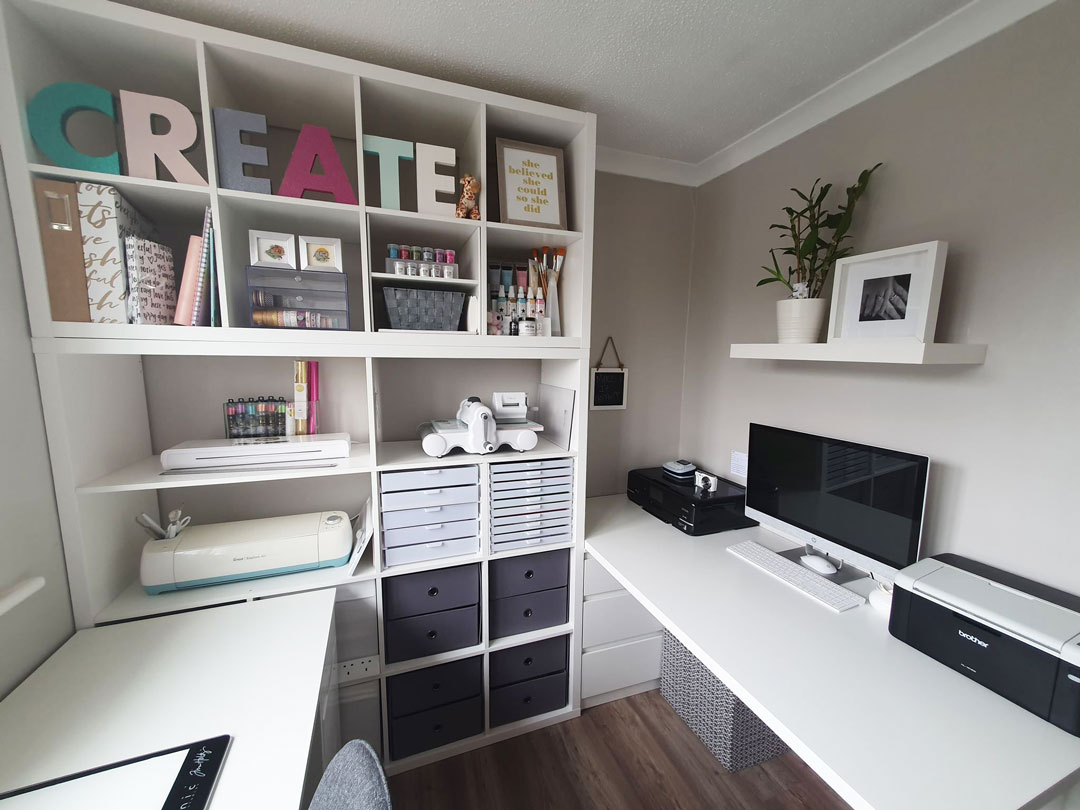 BCO: Tell us about your colors choices for the space?
HANNA: Throughout our home I have used whites, greys and neutral tones for our walls and furniture, then added decor to bring in pops of color. I have followed this theme into my craft room using white furniture and decorating the space with plants, favorite photos, and craft tools while making them functional and convenient to use at the same time.
BCO: How did you plan the layout of your space?
HANNA: I sketched out the room measurements on a piece of paper, and then researched the measurements of the furniture I was interested in to figure out what can fit where. This took months to plan and a lot of trial and error until I found the right pieces of furniture to fit my space. I then thought about how I would configure and use each piece until I could picture the room and had a cohesive plan in front of me.
BCO: How did you configure the IKEA shelving units?
HANNA: I have used 2 Kallax units in my room. I have the 8 shelf unit stacked sideways onto the 16 shelf unit. I use this unit to display my scrapbook albums and most often used items like washi tape, embossing powder and paints. I customized the 16 shelf unit by removing 3 of the shelves to create a bigger space to store my Cricut, Bigshot and Minc machines.
BCO: Which supplies were the most difficult to organize, and what solution did you come up with?
HANNA: I found after some time that I needed to organize the supplies I use specifically for memory keeping separately as they were getting lost and unused mixed in with everything else. At first, I stored these supplies in an Ikea box under my desk, but it became inconvenient to drag and lift this heavy box when I needed it. I started to research portable storage solutions. I came across the Rashult trolley from IKEA which looks like a mini Raskog but this smaller version fits perfectly underneath my desktop (which sit on the Alex drawers from Ikea). Now I store the supplies I need for memory keeping in the Rashult trolley, it stores away neatly under my desk and I'm planning to add the Sunnersta hanging container to the Rashult to store special pens, washi tape, etc.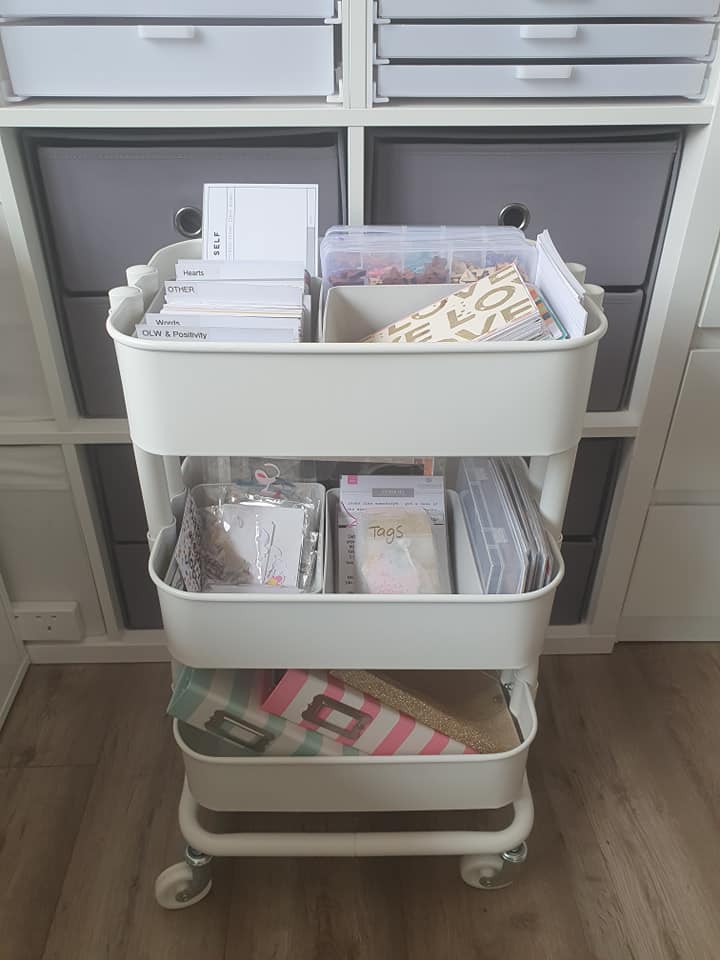 BCO: What do you store in your BCO Storage Add-On for IKEA®?

HANNA: My Storage Add-ons are used to store paper. The Single Drawers hold my 12x12 cardstock perfectly, each drawer contains a color family and the Double Drawers hold a variety of different paper such as a ream of printer paper, photo printing paper, A4 cardstock, vellum and acetate.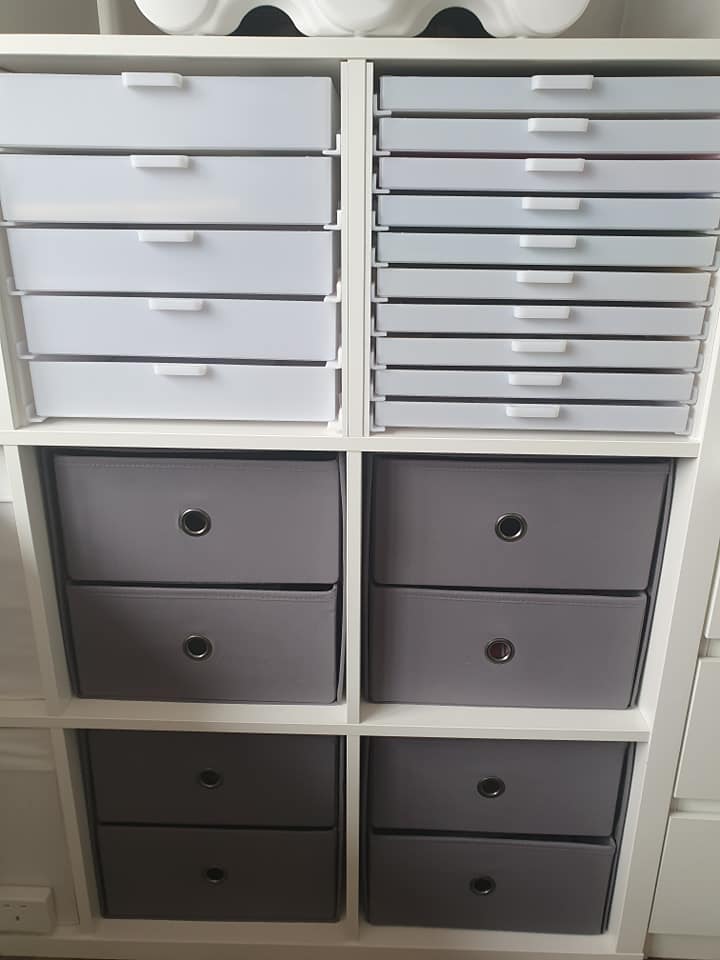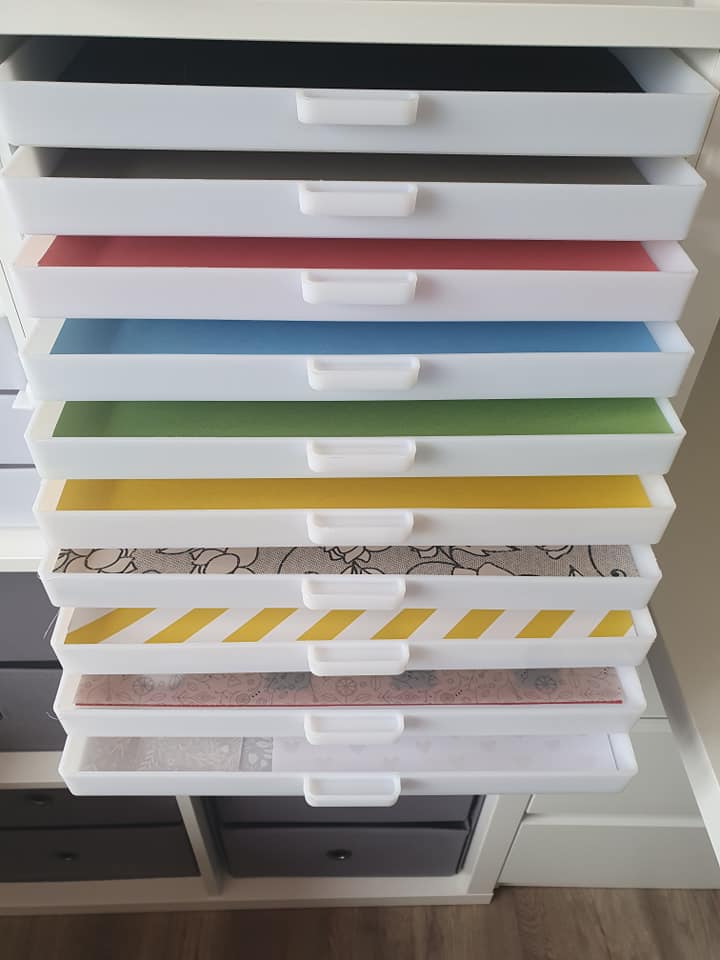 BCO: How has staying organized inspired your creativity?
HANNA: Personally, if I had a room that was filled with clutter, mess, and chaos I would feel overwhelmed by it and my focus would not be on crafting. For me staying organized plays a big part in my mood, mindset and creativity. When I come into my room it feels calm, inviting and I feel ready to work on a project.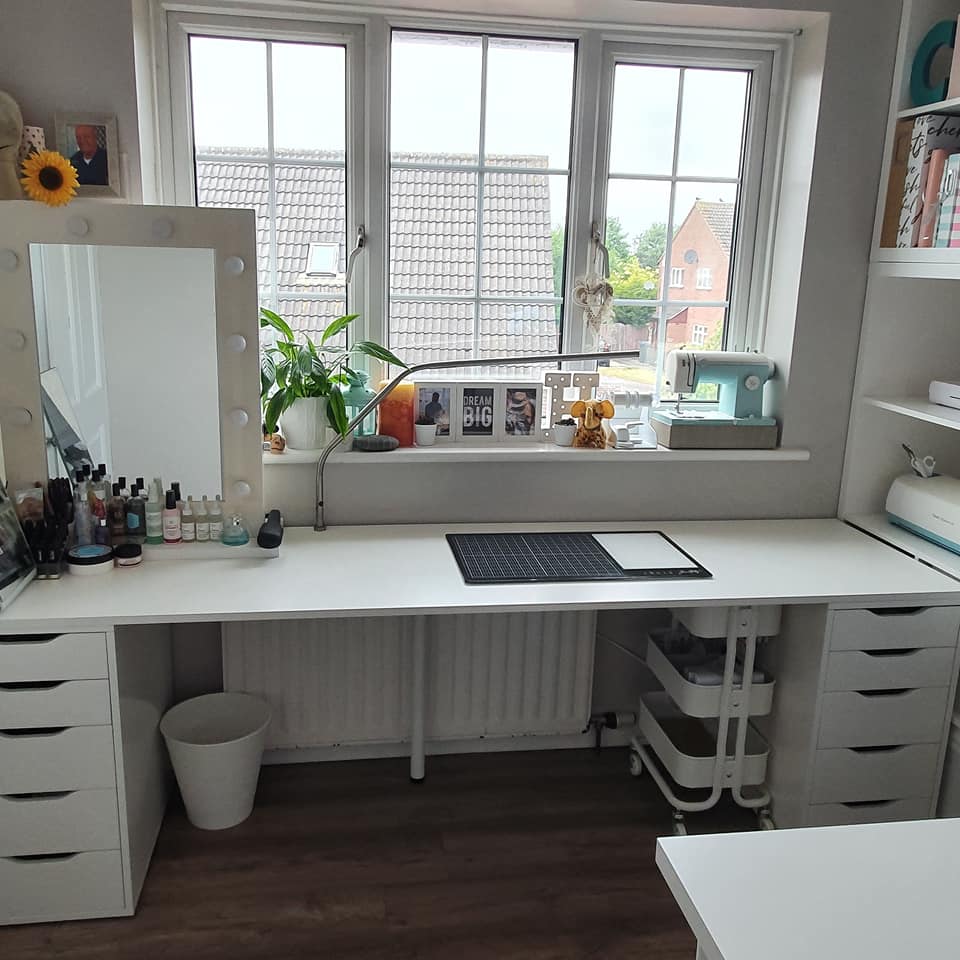 BCO: You did an awesome job balancing your supplies as decor items. What gave you this idea and why did you decide to keep these supplies visible?
HANNA: I chose my Cricut, Minc and Bigshot as décor items as these were the biggest and most expensive items I needed to store, if I had them in a cupboard or a box they would be forgotten about and unused. By having them visible, on display and plugged in ready to go they become practical and easy to use while becoming a feature of the room.
BCO: If you had one organization tip to share with others creating a craft space, what would it be?
HANNA: Be patient and take your time planning, do a lot of research into different products, companies and reviews. Think about what you need for your style of crafts for a functional room. Create a room for you, in your own style, and remember it's a work in progress but most of all have fun with it!
Follow Hanna on Instagram
---
Thank you for sharing your space with us Hanna! If you would like to inspire craft organization ideas, or win a $50 Best Craft Organizer store credit, send us pictures of your craft space for a chance to be a Crafty Spaces winner!
Here are a few tips from Elphie: clean up your space, snap some photos (4 or more) from a few different angles, and include some comments about what you love about your area and your Best Craft Organizer products. You will be entered into our monthly drawing. Email your entry to elphie@bestcraftorganizer.com