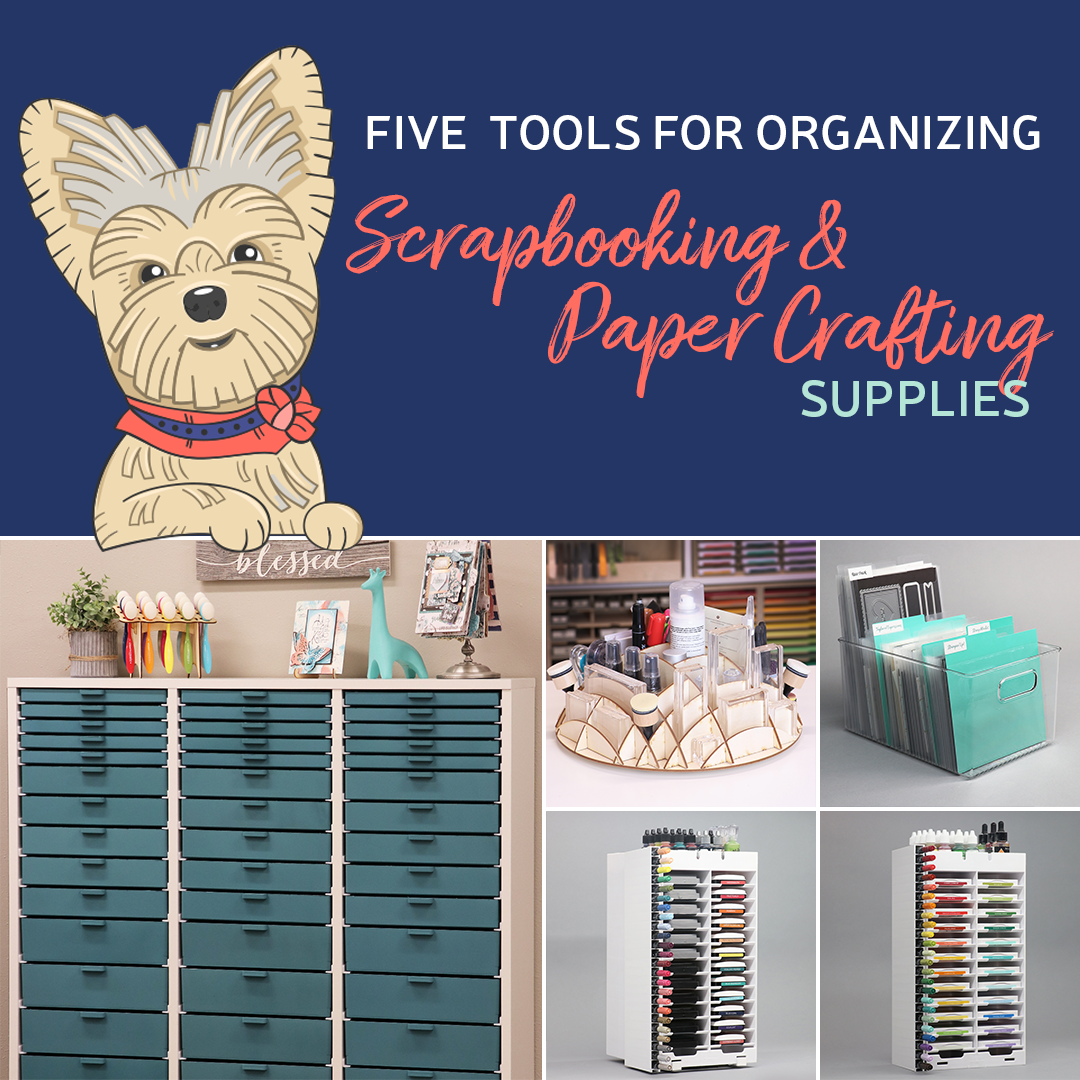 A Pristine Crafting Space Is Possible with Best Craft Organizer
Hello Crafters!!
I'm Elphie, Best Craft Organizer's crafty canine mascot, here to give you the best of the best in organizing advice and resources for your crafting station. We've got tools for new and veteran crafters alike! Organizing crafts is hardly a one-and-done job. It's a creative process in itself that occasionally needs updating, and Best Craft Organizer is here to help.
This week, we are focusing on the scrapbookers and paper crafters in our community. There's a lot that goes into a beautiful card or scrapbook: stamps, ribbons, photos, stock paper, rhinestones, buttons, and various other supplies. Keeping track of it all can be a ruff job. Loose decorations can get scattered and lost, and paper can be crushed and bent if not stored properly.
If that is your current struggle, don't fret! Here at Best Craft Organizer, we will help you ditch the mess, relieve stress, and organize for maximum crafting success!
Here are some tools that will help you organize your craft space!
1. PortaInk Standard Case for Ink Pad Storage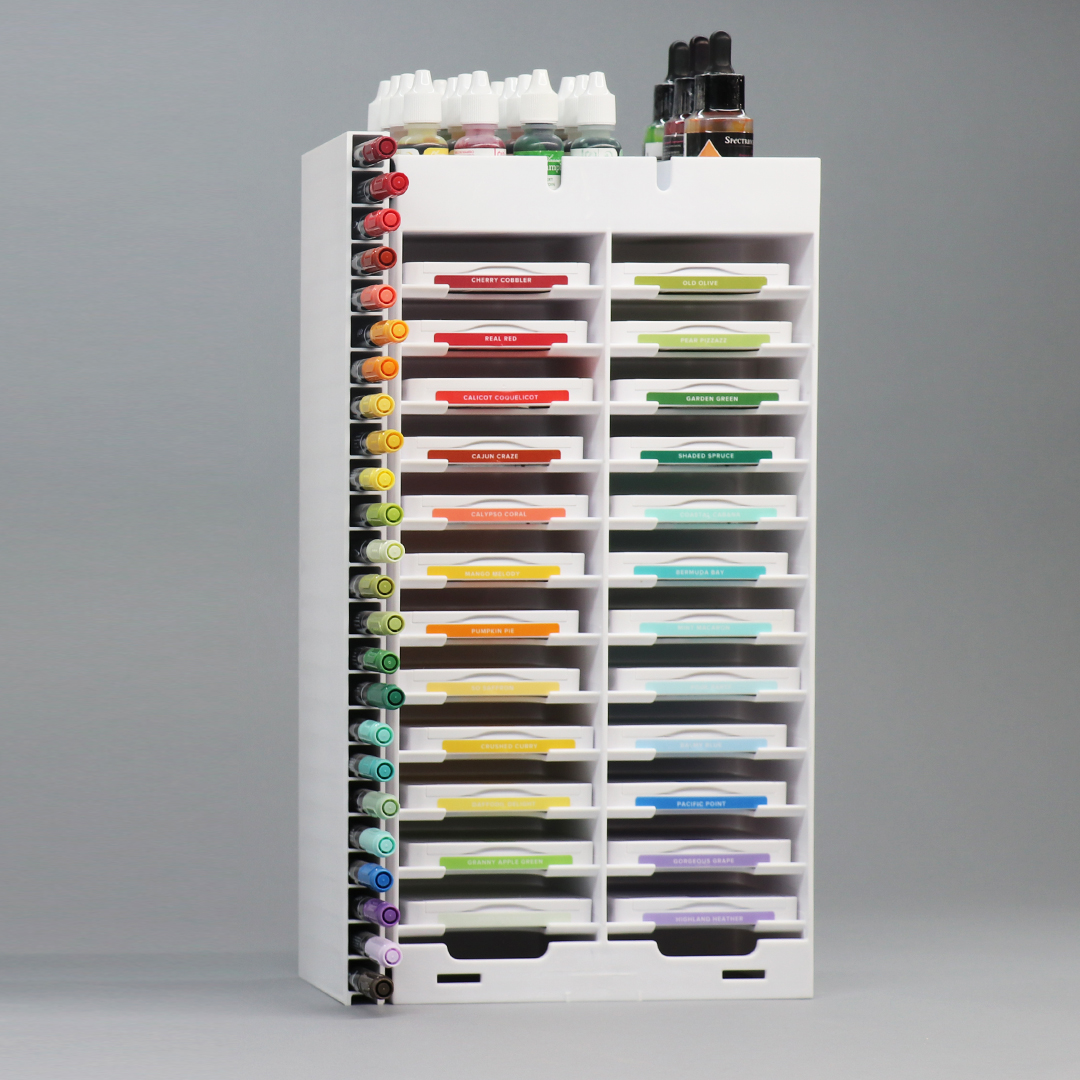 Your colorful collection of ink pads will fit nicely in the PortaInk Standard Case. This case can hold as many as 24 ink pads, and it has space for 28 (0.5 fl. oz.) refill bottles on the top. It also has an add-on option: The Marker Buddy. This separate piece attaches to the side and holds 24 markers that are ½" in diameter or smaller.
Using another method to store your ink pads and markers will be un-inkable once you make the switch. Buyers rave about this case due to its high quality, usability, and affordable price-point. It's great for saving space, as well. Having your pads and pens color-coded will be helpful visually and allow you to reach for them easily, whenever you need them! Luckily, this unit requires no assembly. Once it arrives, you can unbox it, fill all the slots up, and get to stamp, stamp, stampin' away!
ORGANIZE YOUR INKS WITH THE PORTAINK
2. Portaink Dual Swivel Traveler for On-the-Go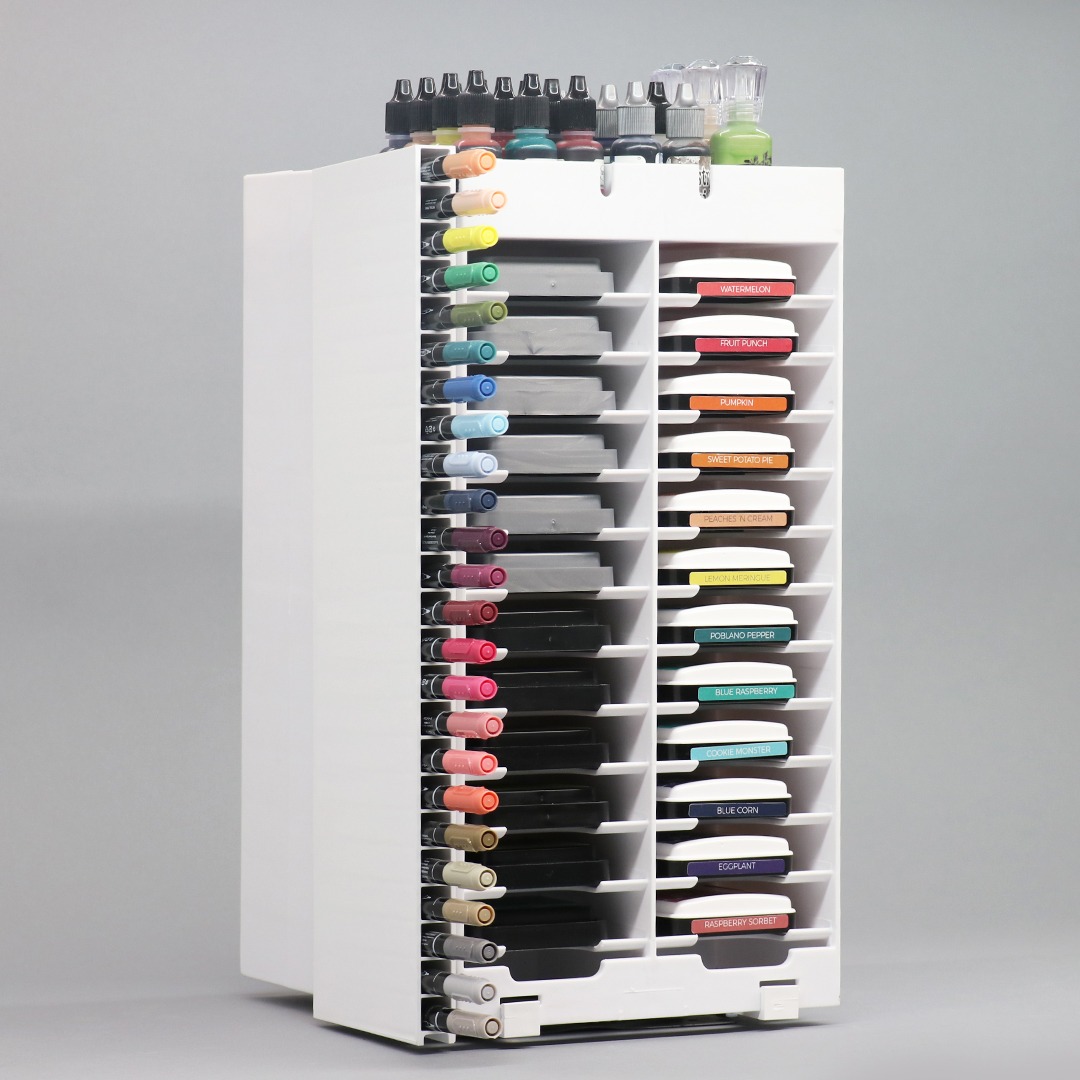 If your ink pad and marker collection is bigger than what the PortaInk Standard Case can hold (first of all, color me green for jealousy), I suggest using the PortaInk Dual Swivel Traveler instead! This product holds 48 Ink Pads and up to 56 (0.5 fl. oz.) ink refill bottles. You can add-on 1 or 2 Marker Buddies to the side for convenient marker storage, as well. Should you want to store smaller pads, consider putting in PortaInk Inserts or PortaInk Spacers to keep everything front and center.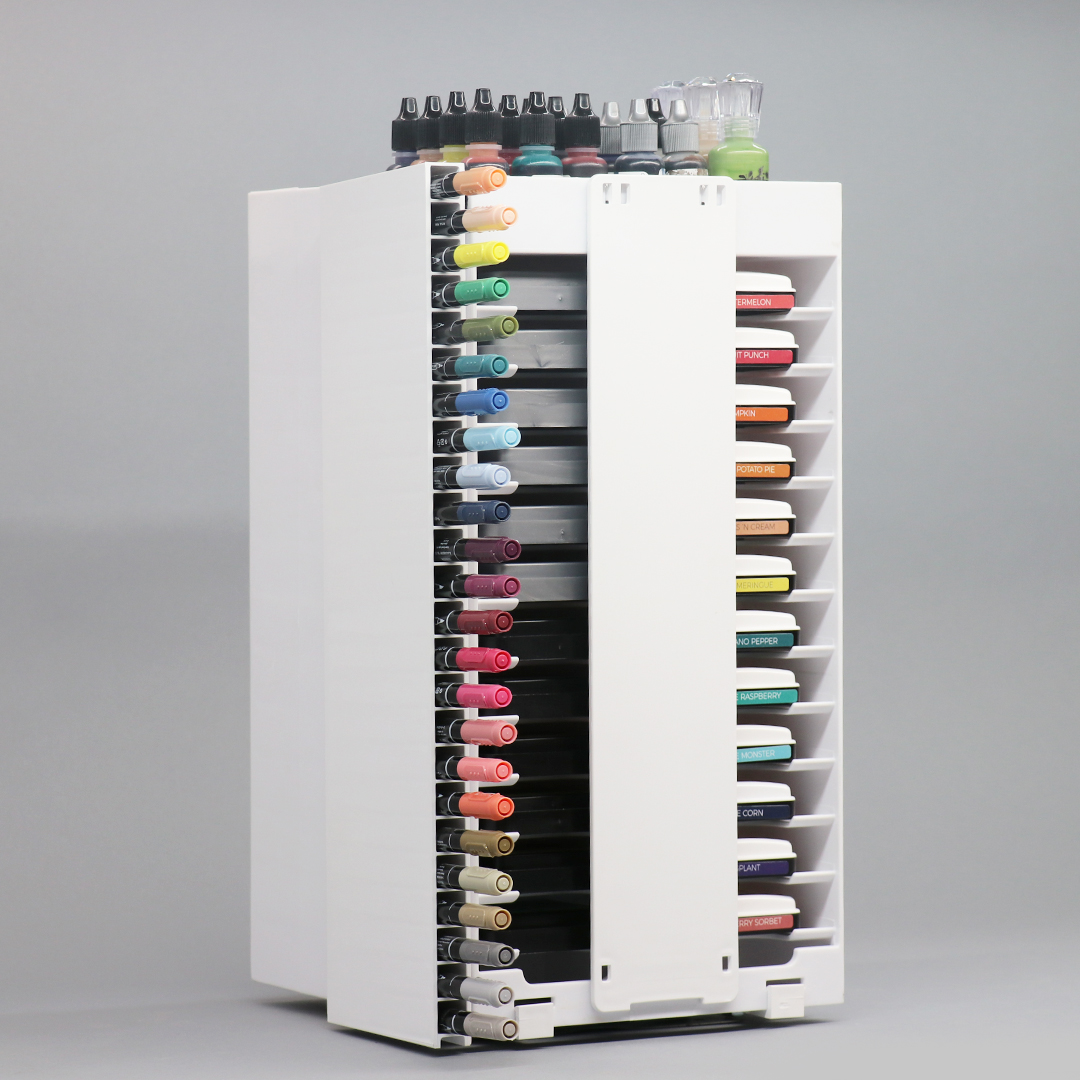 That's some ink-pressive holding capacity! This ink storage solution is portable as well as convenient. You can take it on the go or keep it at home.
The PortaInk Dual Swivel Traveler kit includes:
PortaInk Standard Case (2)
Dual Swivel Base & Mounting Hardware
Travel Cover Plates
Tote Strap
Wherever you choose to keep it, it will save you space and be very useful for getting into your paper crafting flow.
GET YOUR PORTAINK DUAL SWIVEL TRAVELER
3. Desk Caddy For Craft Essentials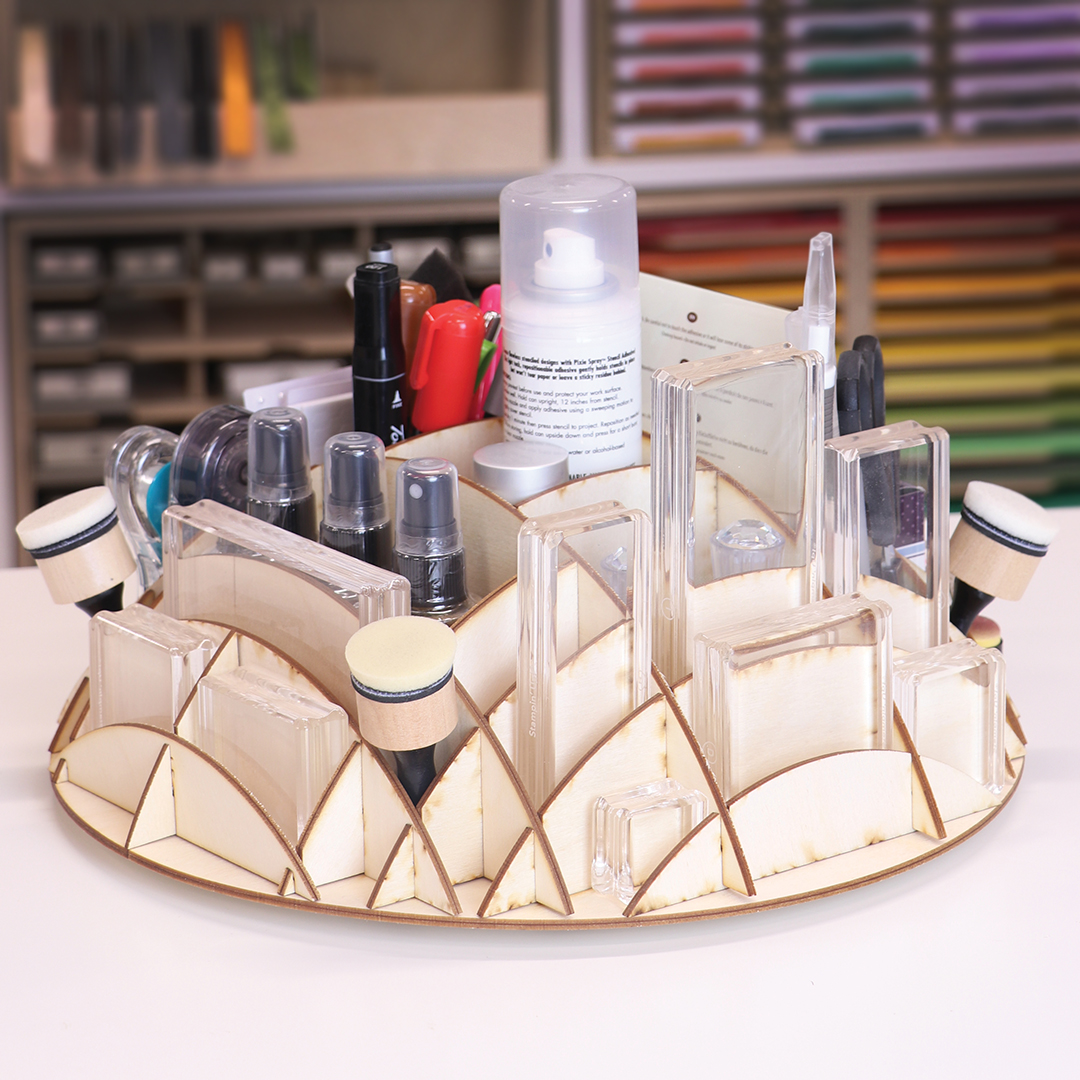 Here's another essential tool with great organizational value: the Desk Caddy. It's a revolving desk-top accessory that can hold various small craft supplies used frequently. Large and small sizes are available, and it can hold writing tools, erasers, glue, scissors, blending tools, and brushes. Scrapbooking is an art that heavily relies on cutting, gluing, and drawing, so having basic tools within hands reach is very important. This desk-top organizer will save you the time it takes to gather supplies so you can get started right away, as inspiration strikes!
Aesthetically, it is simple and elegant. It's made from Birch plywood and laser cut for dark, distressed edges. Should you choose to, it can also be doodled on and painted to fit your creative style. Just a fun idea in case you feel like making your crafting space more colorful!
4. Craft Storage Cabinets, Paper Shelves & Drawers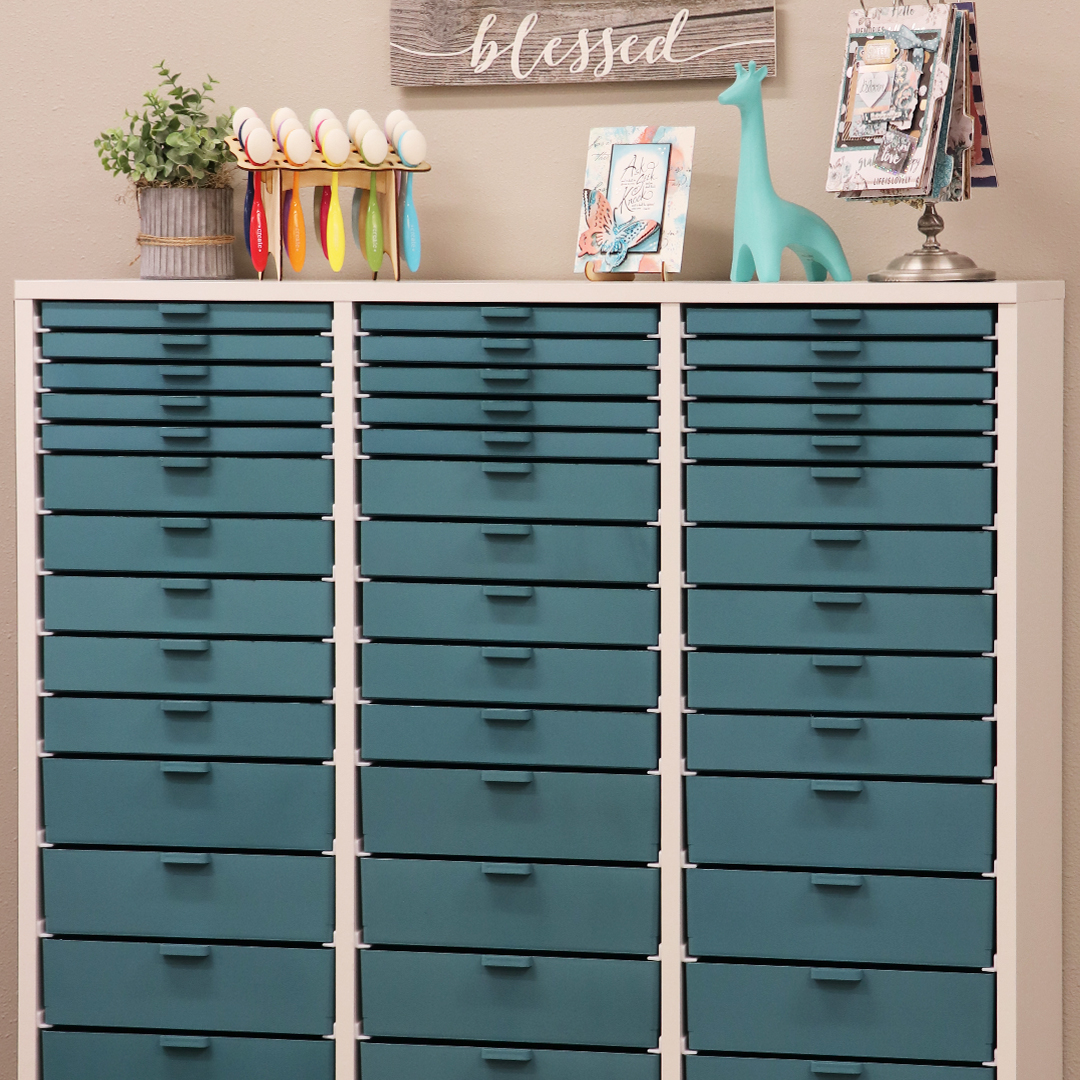 Best Craft Organizer has a fantastic selection of Cabinets and Drawers to choose from. They grrr-eatly vary in terms of size and storage capacity and are highly customizable. You can pick the quantity and size of each of the drawers that go into a unit - so it's up to you to decide what would best fit your needs.
The Storage Cube and Single Storage Cabinet come in handy for organizing smaller amounts of paper and other supplies. Drawers and Paper Shelves can be installed into each of them. Paper shelves will allow you to see all the colored paper you have available, like the Portaink cases allow you to see all your ink pads. The drawers will keep all supplies neatly tucked away.
The Double Storage Cabinet and Triple Storage Cabinets are sturdy storage pieces that hold large amounts of craft supplies. Similarly, you can mix and match different Drawers and Paper Shelves in these units, too. These products are a worthy investment in your craft space and will stand the test of time as you organize and reorganize your supplies.
VIEW STORAGE CABINETS, PAPER TRAYS, AND DRAWERS
5. A Clear Crate for Organizing Stamps, Dies, and Stencils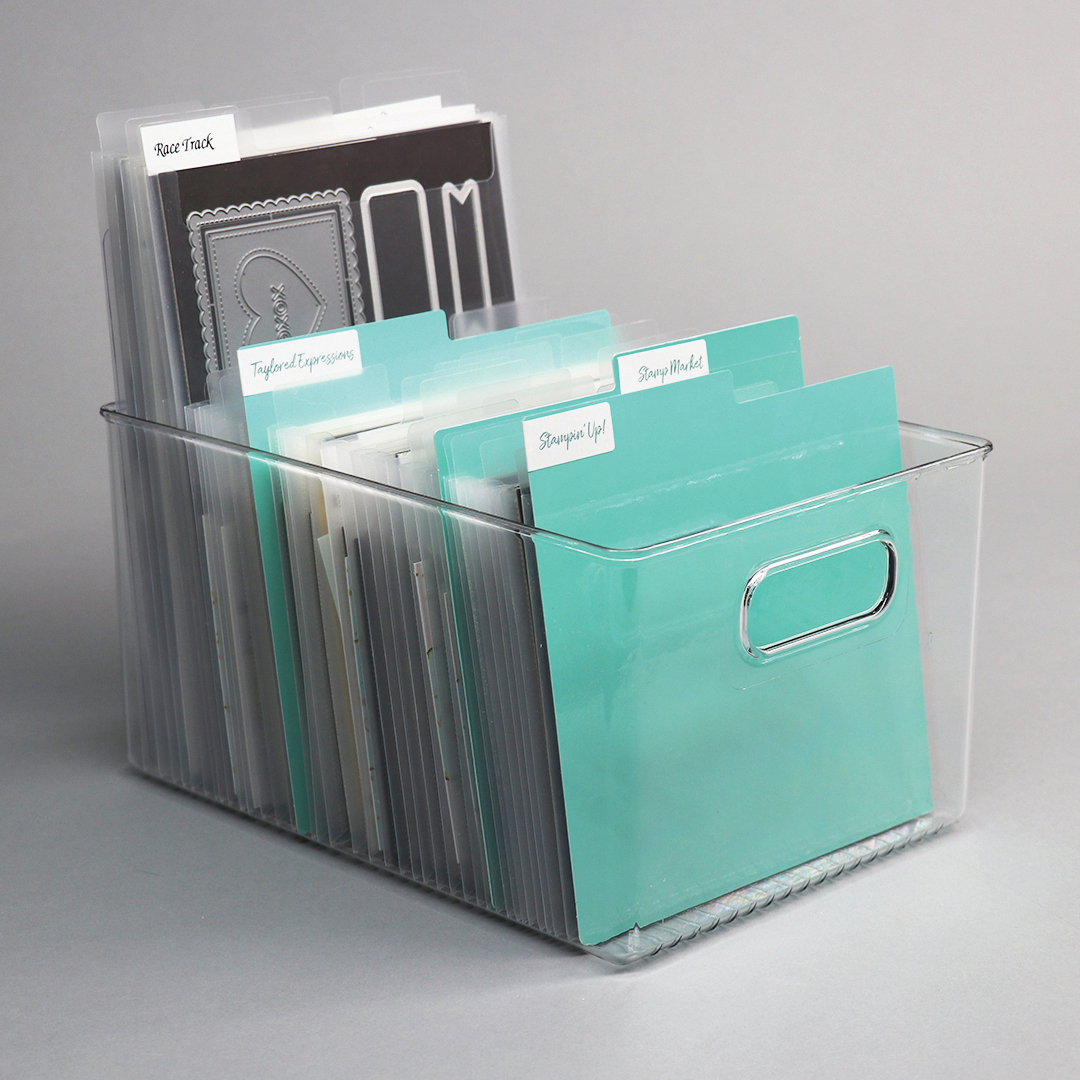 Another must-have organizational tool in your craft space is the Acrylic Crate. This clear craft storage bin offers the perfect organizational solution for your thin wafer dies, stamps, and stencils, especially when you bundle the Acrylic Crate with Crate Dividers, Storage Pockets, and Magnet Cards.
Here's how to organize your stamps and dies with the Acrylic Crate:
Add your thin wafer dies and stamps to a 6x7 or 9.5x7 Magnet Card.
Slide your Magnet Card into a Storage Pocket and label the set on the Storage Pocket Tab.
Add it to your Acrylic Crate and use the Crate Dividers to separate sets by theme, brand, or occasion.
Storage Pockets also are a great option to organize and label your stencils, embellishments, stickers, and more.
SHOP STAMP, WAFER DIE, AND STENCIL STORAGE
Paper-Crafting is made easy with Best Craft Organizer
All these choices fill me with tail-wagging excitement! With tools like these, you'll find exactly what you need when you need it. With your paper-shuffling and drawer-rummaging days behind you, there will be more time to create new designs and become inspired for your next scrapbook. Your greatest scrapbooking and card masterpieces are in sight!
Stay Crafty Friends,
Elphie
Organization Expert
Best Craft Organizer