For many Crafters, the unfinished basement becomes their creative space. Our latest Crafty Spaces winner transformed her basement into a beautiful and functional northwoods creative hideaway!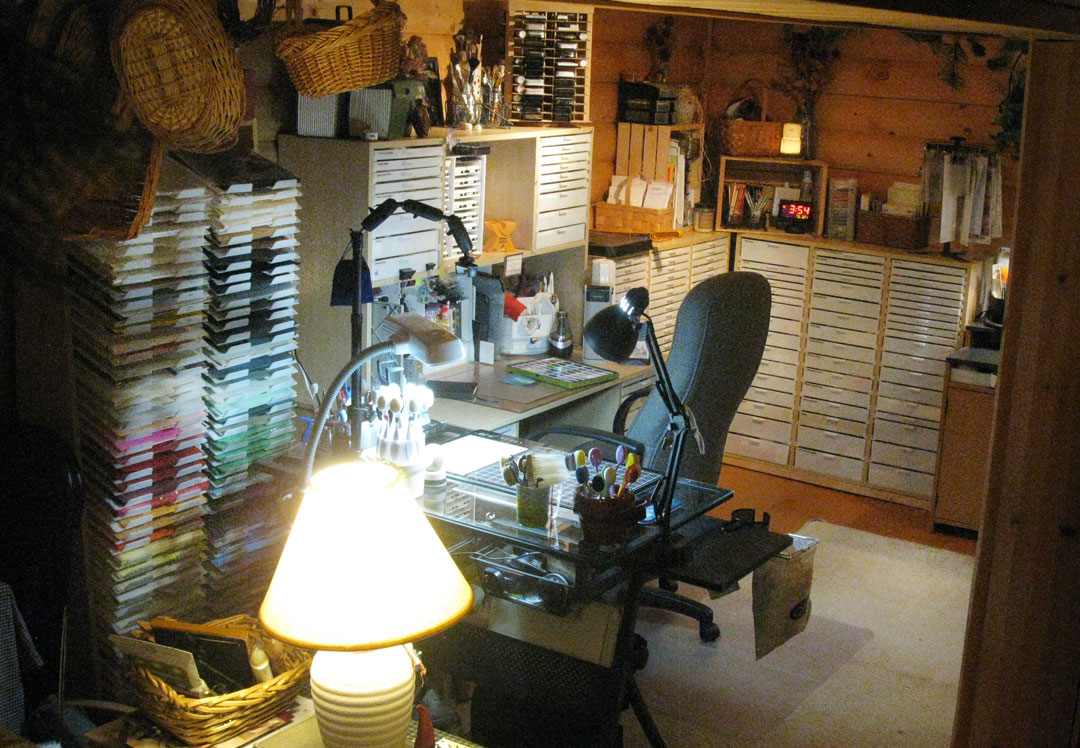 Let's meet Sondra

BCO: Sondra, tell us about your crafting background.

SONDRA: I grew up crafting since both of my grandmothers were artists. I pretty much dabble in everything. In 1989 I really got into stamping, which is my main passion.
BCO: When creating a design for your space, what were elements you took into consideration?

SONDRA: It needed to be functional and efficient, and the furniture needed to be customizable at any time. I wanted things that I love to be in the space so that it reflects me. I also wanted the room to be my creative retreat/refuge and without a lot of cleanup.

BCO: How did you plan the layout of your space?

SONDRA: I started in an unfinished basement, so the first plan of attack was heavy-duty vertical storage. I started collecting the triple cabinets, then the desk/hutch, and then the paper organizer.

I created templates of each piece to scale on grid paper and then drew the room out to scale on graph paper. I moved around each piece on the paper to create a very well-flowing work area. From there, I drew in the outlets and needed task lighting. This made the designing a breeze without moving heavy cabinets around over and over.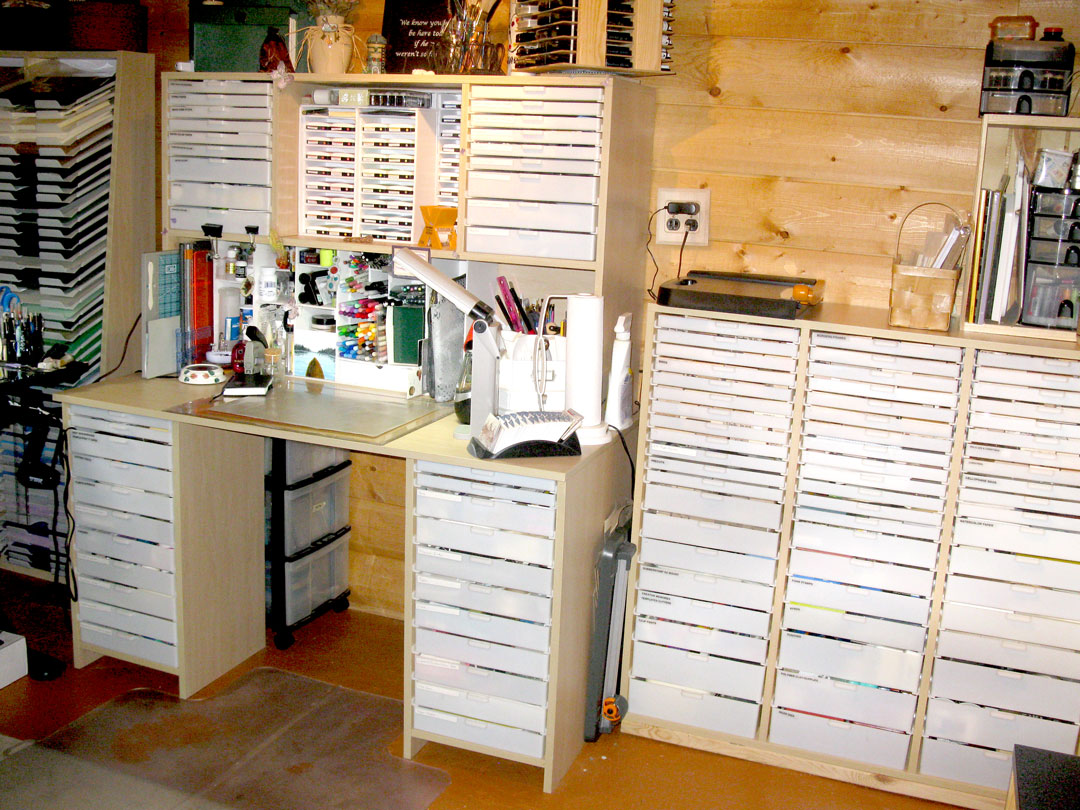 BCO: Tell us about the theme and accent colors?

SONDRA: The theme is Northwoods with mostly Americana colors to accent.
BCO: Tell us about your drawers and how you organize your supplies.

SONDRA: The desk/hutch holds my primary supplies. Paper, cutting tools, inks, coloring supplies, glue, adhesives, paint, and markers. The drawers are so strong I usually use the top drawers of the desk as a shelf for other pulled-out lightweight drawers that I am working from, i.e., watercolor paints. (as seen in photo).
The triple cabinet next to the desk holds secondary supplies, stamps, specialty heating items, clay, heavy dies, and envelopes.
The third triple cabinet near the sewing desk holds embellishments, replenishment supplies, misc. items, and then fiber/sewing supplies near the sewing machine cabinet.

The paper storage shelves are near the desk, so the colors can continually inspire me as I work on projects, not just for storage but also for joy. This paper storage system was offered as a very limited item about ten years ago, and I have never regretted purchasing it. The latest style has a slightly different cabinet.


BCO: Which supplies were most difficult to organize?

SONDRA: The hardest has always been and continues to be wood-mounted rubber stamps and punches due to various sizes and categories. My Best Craft Organizer cabinets are the only cabinets/drawers that do not heave or break due to the weight, and I've had them for at least 14 years.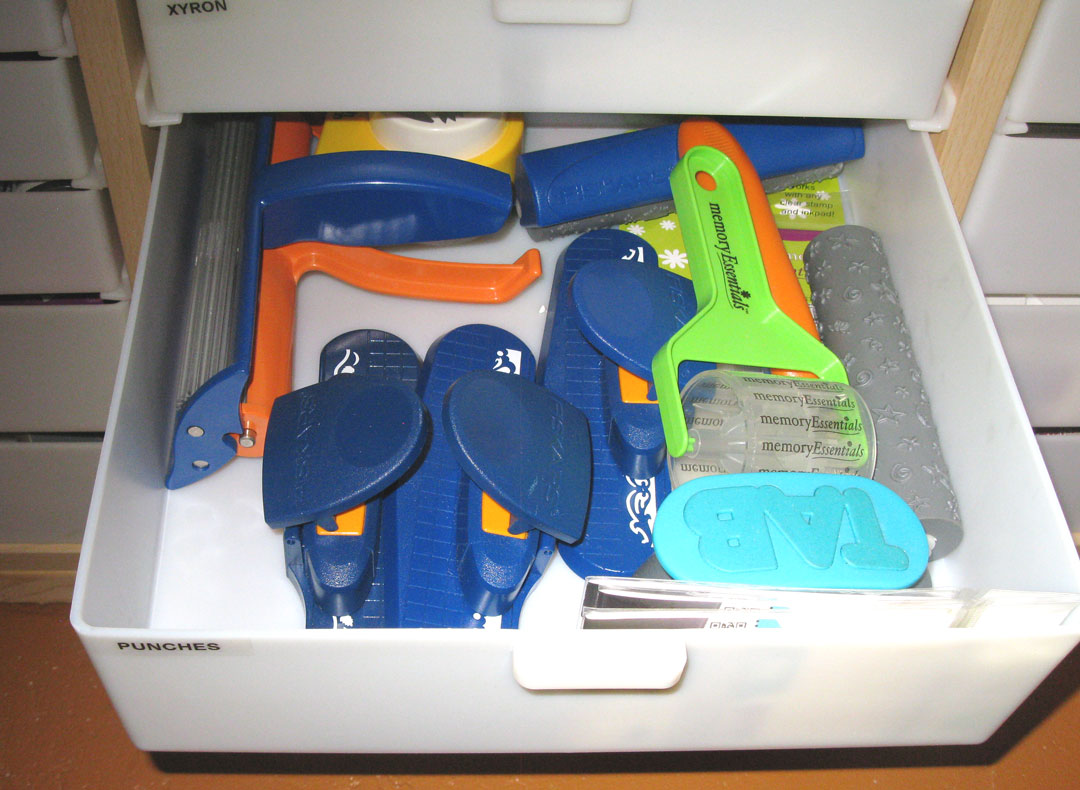 BCO: How has staying organized inspired your creativity?

SONDRA: I cannot say I am truly organized. What crafter is? However, having a place for everything helps keep the area orderly. The within reach, massive, vertical storage, means less cleanup and more playtime!

BCO: If you had one organization tip to share with others creating a craft space, what would it be?

SONDRA: Six words: Within arm's reach and vertical storage.
Organizing a space never ends, so I cannot stress this enough to get customizable storage. Our crafting tastes grow and sometimes change. It is so nice to just pull out a few draws/shelves and move their location to meet your needs. We craft because we love creativity and playing, not wasting time cleaning or wasting money because we couldn't find a supply we thought we had only to run out to buy it, then find the original purchased supply in a pile somewhere later. In the long run , you will be a happier crafter!
---
Thank you for sharing your space with us Sondra! If you would like to inspire craft organization ideas, or win a $50 Best Craft Organizer store credit, send us pictures of your craft space for a chance to be a Crafty Spaces winner!
Here are a few tips from Elphie: clean up your space, snap some photos (4 or more) from a few different angles, and include some comments about what you love about your area and your Best Craft Organizer products. You will be entered into our monthly drawing. Email your entry to elphie@bestcraftorganizer.com