We love when our customers come up with great ideas and ways to use the organizers. Here's what one customer says…
Submitted by: C.P - Henderson, NV
Still love your products. I find I'm constantly reorganizing and re-purposing the drawers. I have found a new successful use of the 1" drawer and paper trays. I line them with inexpensive adhesive magnetic sheets and they work perfectly to hold my spellbinders nestabilities, bordabilities, etc. I can get 4-8 sets in each tray. I organize by shape, ie: all circles in one tray, all label shapes in a different tray, etc. I like the fact that I can see so many of the sets at one time. The dies stay in place when not in use because of the magnetic sheets. Helps to save time and increases the flow of ideas. I label the trays/drawers as to their contents for quick location of the dies.

---
Here's a tip when working with our ribbon dispensers!
(NEW TIP: You can also use glue dots instead of the whole strip of adhesive. This will minimize the access stickiness on the dispenser)
As pictured below, place a strip of double sided tape along the bottom of your dispenser. Then attach the tail ends of each ribbon to this double sided tape. This will prevent your ribbon ends from winding back into the dispenser. When you are ready to use one of the ribbons just remove the tail end from the adhesive pull the length desired and cut.
--Just another way to make your crafting easier.--
---
Submitted by: S.H of Athabasca, Alberta Canada
I am looking forward to completing my collection of Best Craft Desks and Organizers soon. Below are some pictures of what my craft room looks like so far.
I have added a restaurant chit rail under the hutch to hold my pictures, notes and paper bits. I also use my top 1" drawer in my desk as a garbage. I just sweep away the bits and snips while I am working.
When I go to weekend crops I pack my drawers into cardboard banker boxes and transport them with ease. At the crop, I turn the boxes on their short side and slide my drawers in. This helps keep them from toppling everywhere.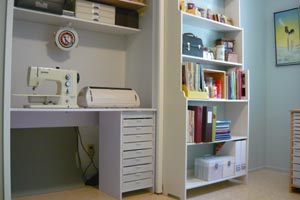 Organized Crafter Single Pedestal desk used for my sewing machine and die cutter.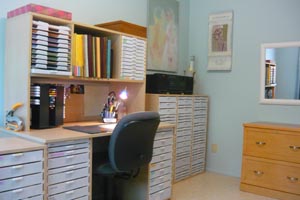 Crafters Desk and Hutch with a Triple large Cabinet in the corner.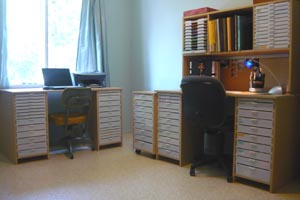 Two Crafters Desks one with hutch. Single Mini Stackable in between.