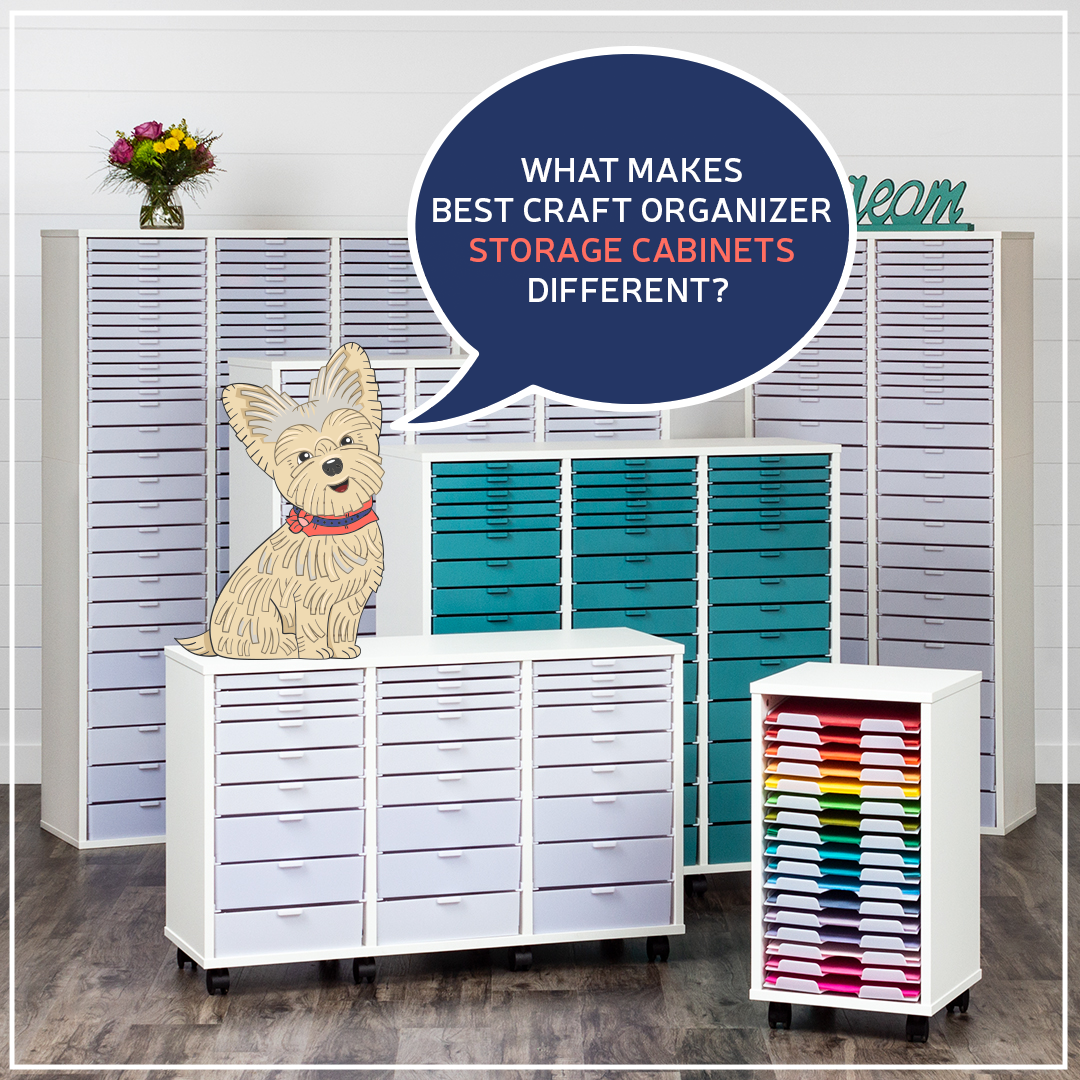 Hi, I'm Elphie, your crafty canine companion and I'm here to tell you all about the Best Craft Organizer Storage Cabinets and what makes them different from other utility cabinets or a craft armoire.
Key Features for Every Craft Storage Cabinet
Best Craft Organizer Storage Cabinets were designed with you, the crafter, in mind. They feature a compact design that's only 14-1/2" deep, maximizing storage in a smaller area and leaving room for workspaces. The 12"x13" drawers are large enough to store lots of items, but not so deep that you'll lose track of what's in the back.
But the real tail-wagger is the cabinets' modular design. You can customize each storage cabinet to fit your specific needs. Using our Cabinet Designer, you can choose the cabinet width, height, and drawer/paper shelves combinations.
Here are a few examples of how you might configure your Craft Storage Cabinet:
A Double Storage Cabinet size Standard with each column configured with 15 Paper Shelves to store scrapbook paper; five Single Drawers for paper scraps and embellishments; three Double Drawers to store adhesives, scissors, punches, and stamping tools; 1 Triple Drawer for ink refills, Nuvo Drops, alcohol inks, etc.


Double Storage Cabinet size Large configured with Paper Shelves in one column, and another column configured with a mix of Single, Double, and Triple Drawers to manage your supplies.


Triple Storage Cabinet size Standard with columns configured with any combination of Drawers to hold thread spools, fabric, scissors, yarn hooks, oil & acrylic paint tubes, beads, brackets, embellishments, needles, and more.

Are you starting to envision how these Storage Cabinets can transform your space and bring to life your craft room organization ideas?
Additional Storage Cabinet Features

Each Storage Cabinet is available in various sizes, including Single, Double, or Triple widths and Small, Standard, Large, and X-large heights (NOTE: Single Storage Cabinet not available in X-Large). This makes it easy to mix and match cabinet widths with the same height for a uniform look.
The drawers are made of high-impact polypropylene, a very durable plastic. This also makes the drawers extremely easy to spray paint to match your room's decor.
Best Craft Organizer offers various drawer organizers like Accessory Trays and grids to keep your drawers neat and tidy. You can also pull out the Drawer and take it to your craft table. This gives you easy access to your project supplies like beads, paints, stickers, washi tape, or embroidery floss. Returning the Drawer to the cabinet makes clean-up a breeze.
The unique modular design of our Storage Cabinets provides lots of flexibility. When your storage needs change, reconfigure the cabinet with different Drawers or Paper Shelves. You can also purchase a Storage Cabinet Add-on kit to increase the height of the cabinet to maximize storage within the existing vertical space.
Cabinets, drawers, and paper shelves are made in the USA at the Best Craft Organizer headquarters in Hutchinson, Minnesota.
Best Craft Organizer Storage Cabinets are paw-fect for organizing all of your craft supplies and making your craft room a pawsitively organized creative space. So give them a try and start designing your cabinet today!
Elphie
Best Craft Organizer