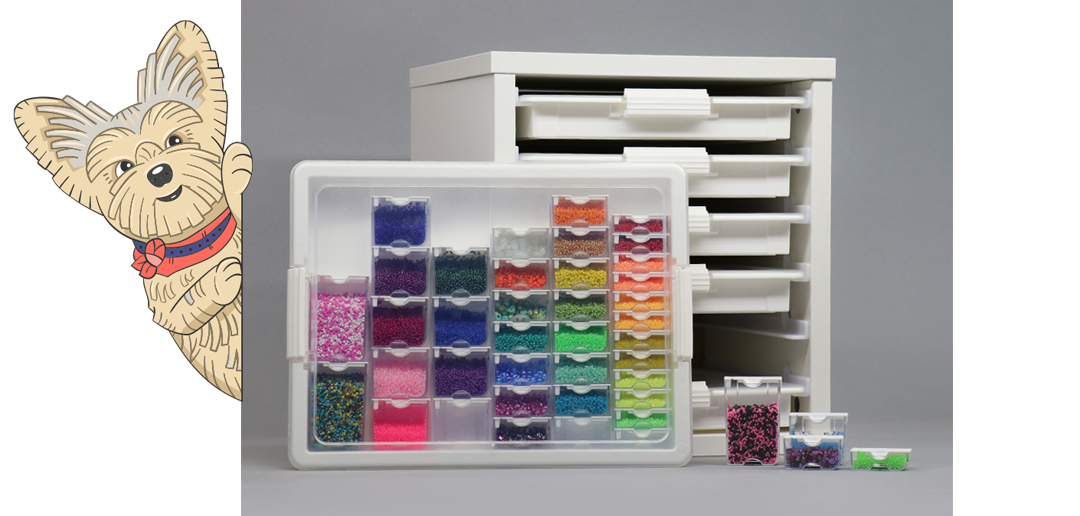 You Bead-er Believe We Love These New Storage Tools
Hiya Crafters!
I'm Elphie, the crafty canine whose favorite hobby is giving you better tools and tips for organizing your favorite hobby. Whether it's sewing, beading, quilting, or jewelry-making, we've got you and your crafting space covered! We have explored some grrr-eat options for organizing craft supplies, but today I'm really excited to talk about our latest storage solution for beaders and jewelry-makers.
If you've been in the beading world, you might recognize the name Bead Storage Solutions or Elizabeth Ward. She has designed a fantastic product that makes storing those tiny beads a howl lot easier. And now, with Best Craft Organizer, you'll find a perfect trio for organizing your beads. Let's start with the containers by Bead Storage Solutions.
Bead Containers by Bead Storage Solutions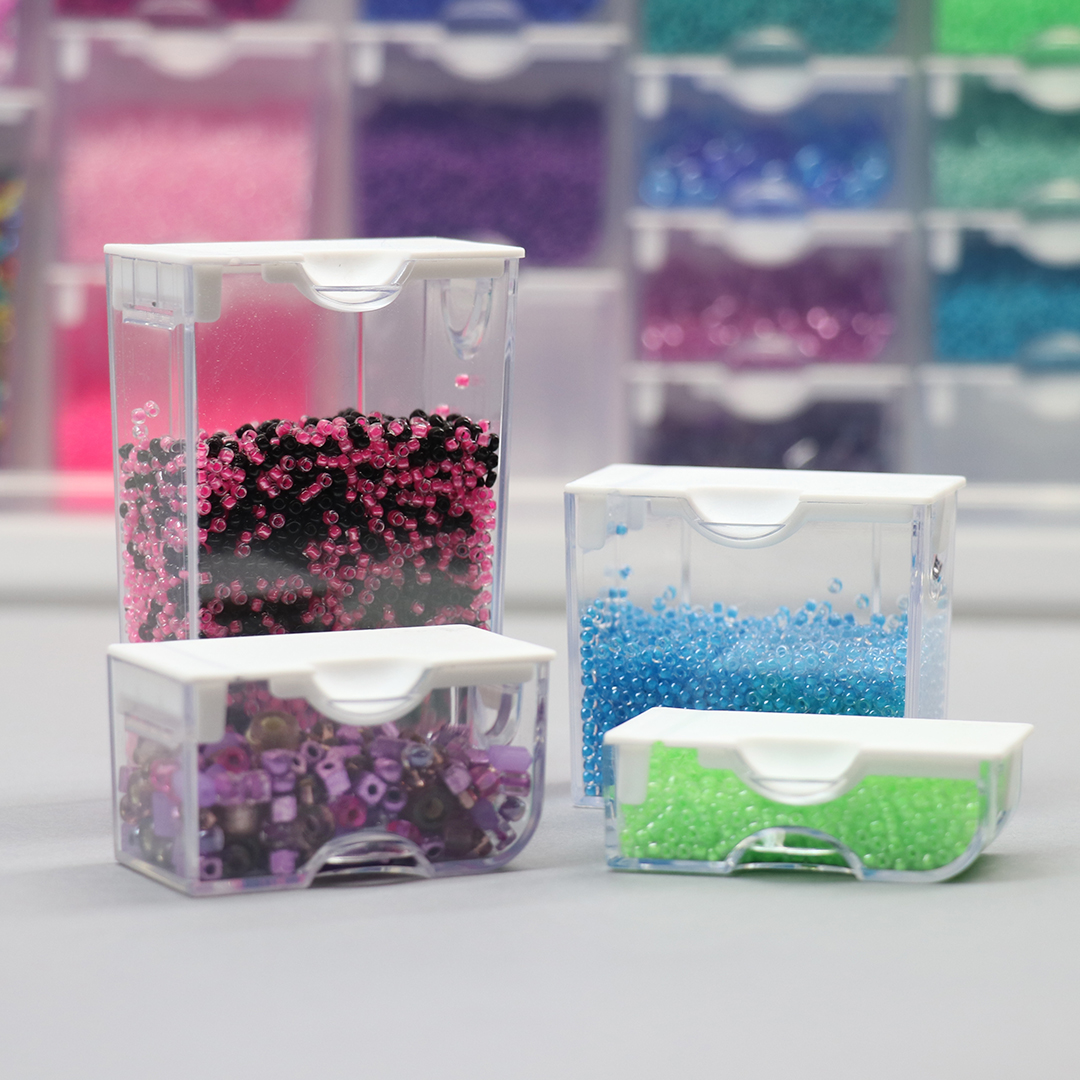 When it comes to containers for your beads, we've got it covered. These handy-dandy storage containers come in a variety of sizes. They are built with a clear plastic case for high visibility and a snap-shut lid for secure storage. That makes it easier to store any and all beads by shape and color, jewelry pieces, buttons, and any other small items you can think of. These containers will literally make organizing a snap! Four sizes are available and include:
Tiny (3/4" x 2" x 1 ⅛")
Small (1 ⅙" x 2" x 1 ⅛")
Medium (1 ¾ "x 2" x 1 ⅛")
Large (3" x 2" x 1 ⅛")
You can get organized and stay organized with these containers, especially if they're paired with the right holding tray. Here at Best Craft Organizer, we are big on visibility and easy access, and these containers fit the bill.
Storage Trays by Bead Storage Solutions
All those storage containers need a home, don't they? A large assortment of them fit snugly inside the Elizabeth Ward Storage Trays. These trays have a very convenient size, with dimensions of 13 ¾" x 10 ½" x 2". You'll be surprised just how many beads you can fit into it!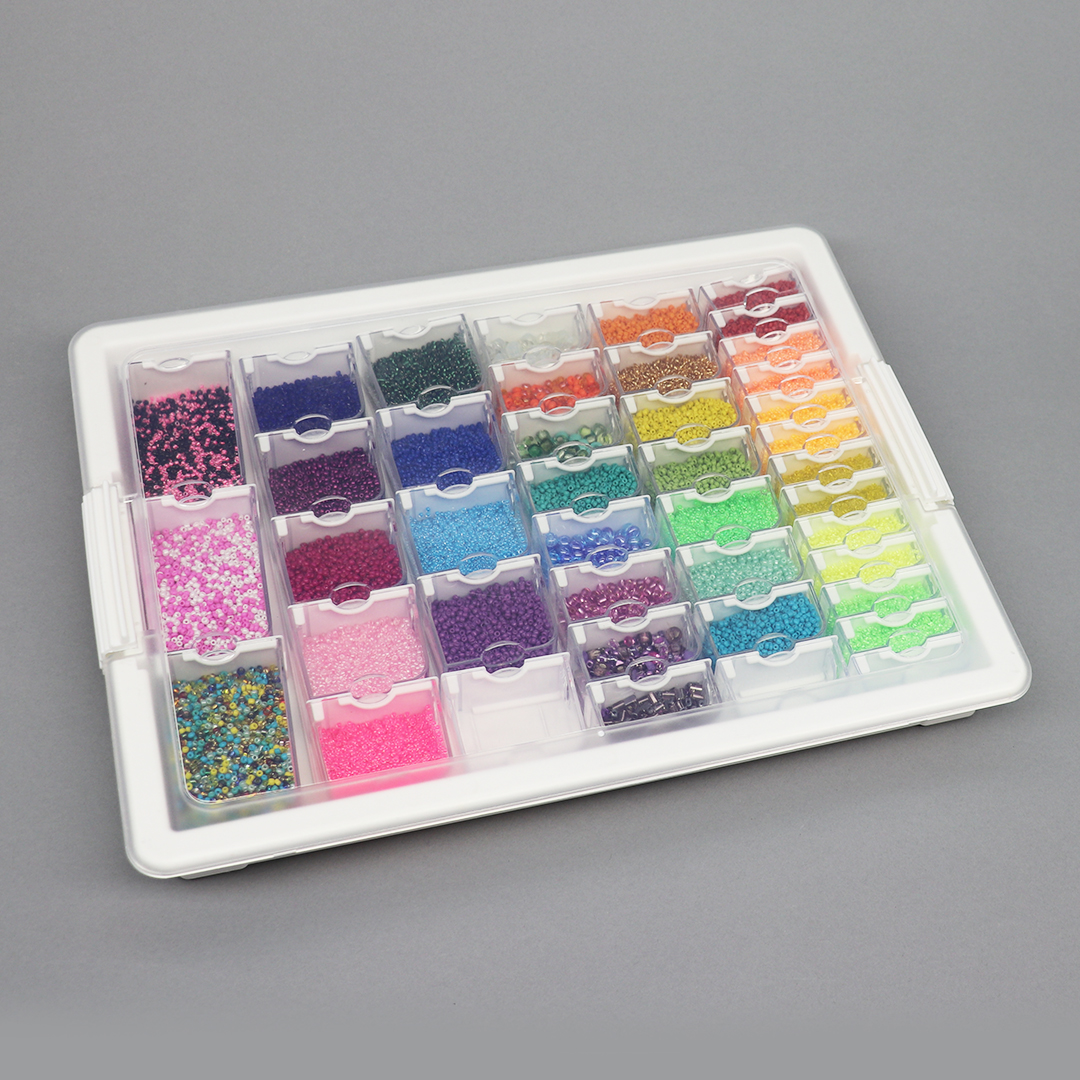 The BCO team understands that organizing is personal, and what works for one person, might not work for the next. That is why we provide customizable products to fit your crafting needs. You can buy the Bead Storage Solutions' Tray by itself and order as many containers as you want separately. On the other paw, you can choose the tray plus a predetermined amount of containers that will fill all the space inside.
The Elizabeth Ward Storage tray can fit 78 tiny containers, which is perfect for seed beads and small embellishments. If you want to mix up the sizes you can order the tray and the mixed assortment which includes: 3 Large Containers, 10 Medium Containers, 16 Small Containers, and 13 Tiny Containers.
So to break it down into pup-size pieces, you can order:
Tray + Tiny Assortment

Tray and Clear Snap-Shut Lid
78 Tiny Containers
Labels
Tray + Mixed Assortment

Tray and Clear Snap-Shut Lid
3 Large Containers
10 Medium Containers
16 Small Containers
13 Tiny Containers
Labels
Tray Only

Tray and Clear Snap-Shut Lid
These trays come with their own snap-shut lid for secure storage and will hold all the items firmly in place. Plus, they are designed for stacking quite nicely. However, be careful, you do risk scratching the lids. To avoid damage and to make access super convenient, the trays are best organized inside the Cabinet for Bead Storage Solutions.
Shop Bead Storage Solutions' Trays
Cabinet for Bead Storage Solutions
Now for the ultimate tool that brings it all together! The Cabinet for Bead Storage Solutions allows you to slide out the trays and easily access your beads. Cabinets are made from .75" thermofused melamine panels and are CARB compliant. Assembly is required, but you'll only need a screwdriver to complete.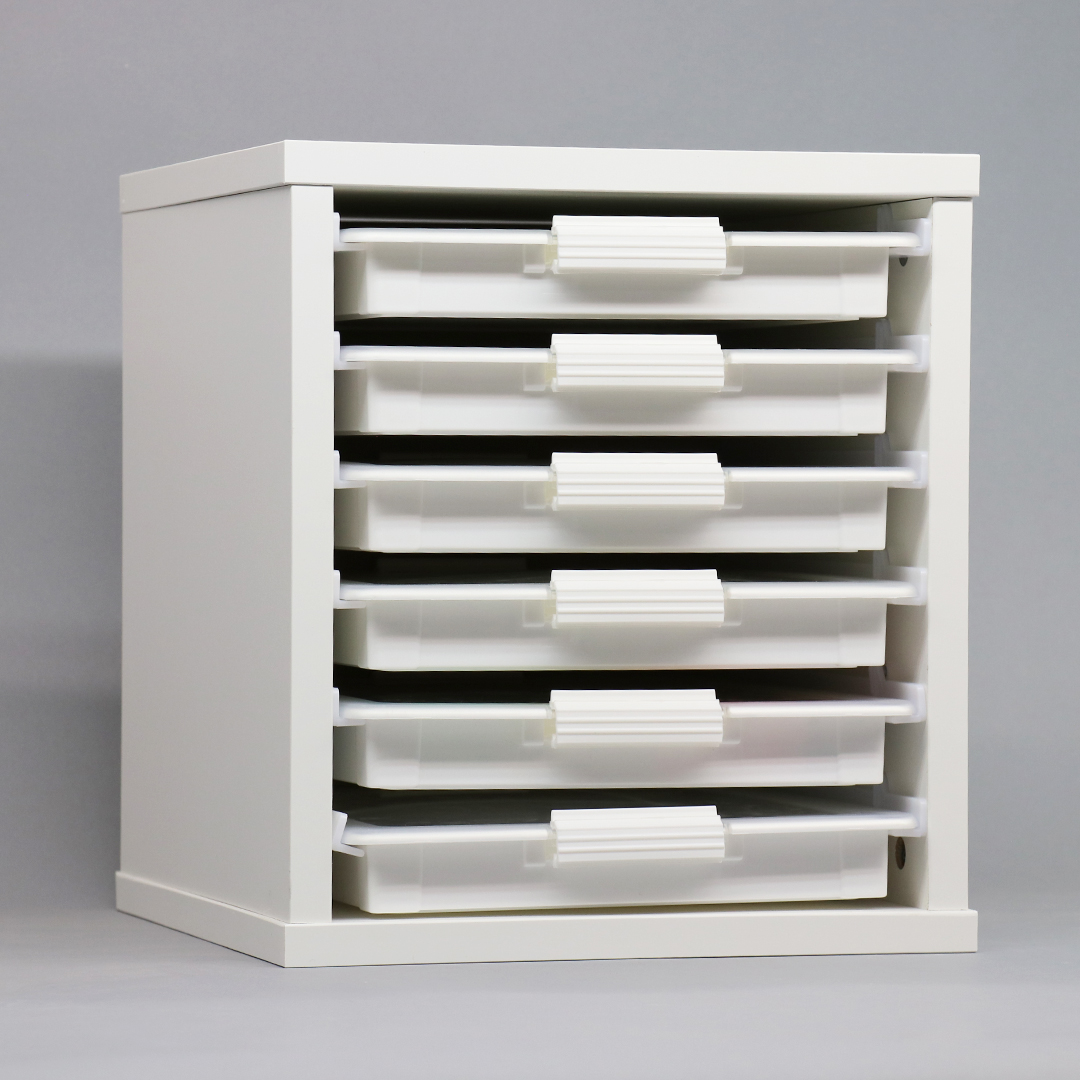 The Cabinet for Bead Storage Solutions' is available in two sizes: the Standard (which holds six trays) and the for IKEA (which holds five trays). So while still small, its storage capacity is something to behold.
There are three configurations to choose from:
Cabinet Only (Trays not included)
Cabinet + Tiny Assortment Trays
Cabinet + Mixed Assortment Trays
These bundles make organizing your jewelry a no-brainer! Not to mention, you can save some money while investing in your optimized storage solution! In fact, you'll save 50% OFF the Cabinet when you purchase five or more Bead Storage Solutions Trays.
Shop Cabinet for Bead Storage Solutions
For organizing beads and jewelry pieces, the Bead Storage Solutions system combined with Best Craft Organizer is perfectly ideal. It will save you time so you can get right to crafting with the exact supplies you need right away. Going through a drawer full of baggies is nothing but time-consuming, frustrating, and overwhelming! Not to mention, your supplies can easily get mixed up or spill if the bag is not closed properly.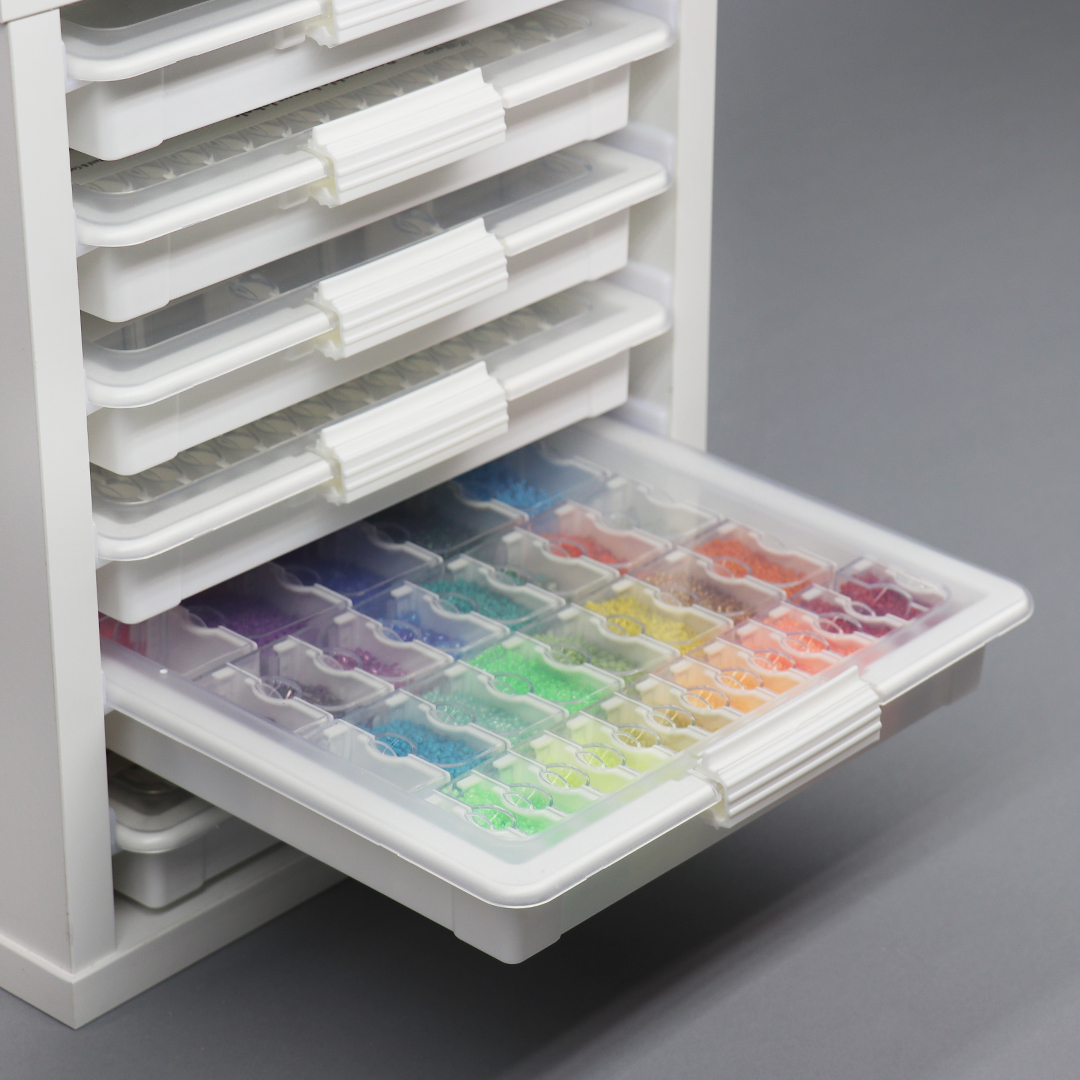 To save yourself time and hassle, invest in your organizational process with storage solutions by Best Craft Organizer and Bead Storage Solutions.