It's Time to Upgrade from a Drawer Full of Plastic Bags to an Organization System Customized for you!
Hello Friends,
It's Elphie, your Best Craft Organizer! Today I wanted to share a tip for Jewelry makers. We all know organizing those beads, findings, brads, hooks, and jump rings can be quite a challenge. There have been lots of generic storage ideas like tackle boxes and plastic bags. However, it's pretty ruff trying to sort through those bags. AND have you ever been frustrated with tackle boxes and how those beads always seem to sneak into another compartment? What if I told you there was a better option that could be customized specifically for your bead collection? I bet that would get your tail wagging.
When organizing your jewelry, it's essential to see all your jewelry pieces by color, size, and shape. It's also important to have easy access to all those tiny pieces. Stop sifting through a barrage of baggies, or openings tackles box after tackle box to find the right bead. Organize your jewelry collection with Tray Inserts by Best Craft Organizer.
Tray Inserts are available in full or half sizes, and have multiple compartments to organize all your beads, pendants, and findings.

Half Trays are available from 3 to 32 compartments and are perfect for even the tiniest of jump rings, split rings, or spacers. Two trays fit perfectly in the Single Drawer of the Best Craft Organizer Storage Cabinets, allowing you to customize your drawer for your specific needs.
Half trays are made from sturdy plastic and can easily be removed and brought over to your project area. Each compartment has a rounded corner making it easy to grab the smallest of objects. You even have the option to add a cover if you want to grab a tray and head to your next jewelry making class.
Available Half Tray Sizes:
Full Trays are available in 1, 6, 15, 30, and 60 compartments. The 1, 30, and 60 Compartment Trays fit perfectly in the Single Drawer of the Best Craft Organizer Storage Cabinet. The 15 Compartment Tray is a bit deeper and fits in the Double Drawer. These trays are an excellent option for larger items like your pendant trays and glass tiles.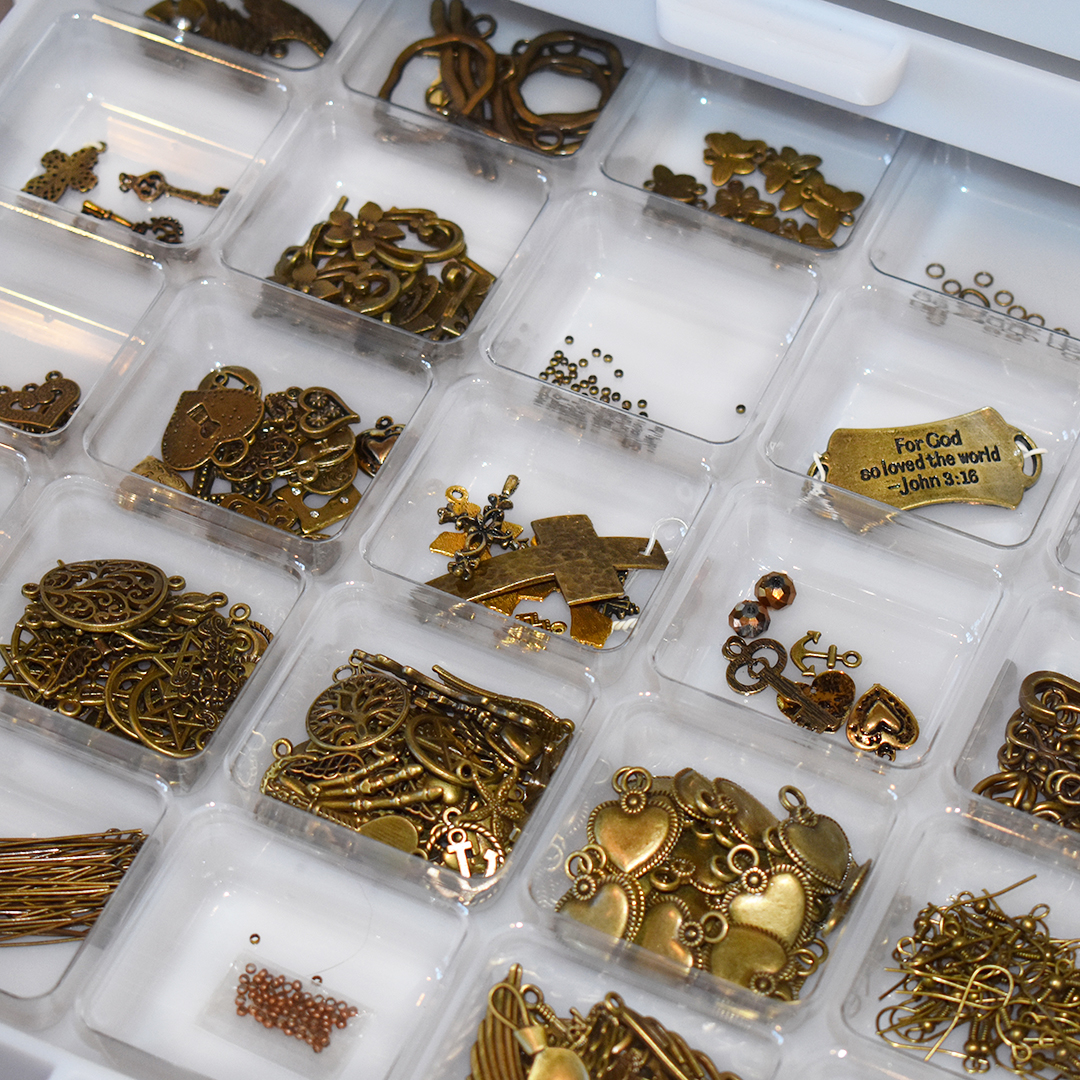 Available compartment sizes:
Insert a Tray, Make an Immaculate Display
Organizing your beads, clasps, charms, crystals, and findings is just the beginning of the fun. When your space is all organized and color-coded, you'll be thinking to yourself:
"Wow, where am I? Hobby Lobby? Michael's? Look at this beautiful display of beading supplies!"
Remember, the less chaos your eyes see, the more possibilities your mind's eye. Sure, there's a method to the madness when it comes to unleashing creativity…but when you're just sitting down to let that inspirational wave take you away, it's helpful to see everything you can work with to create.
Don't stress, ditch the mess, and organize with Best Craft Organizer!
Elphie
Organization Expert
Best Craft Organizer
[ LEARN MORE ABOUT STORAGE CABINETS AND DRAWERS ]