Serious Lego Builders Need Serious Storage Space!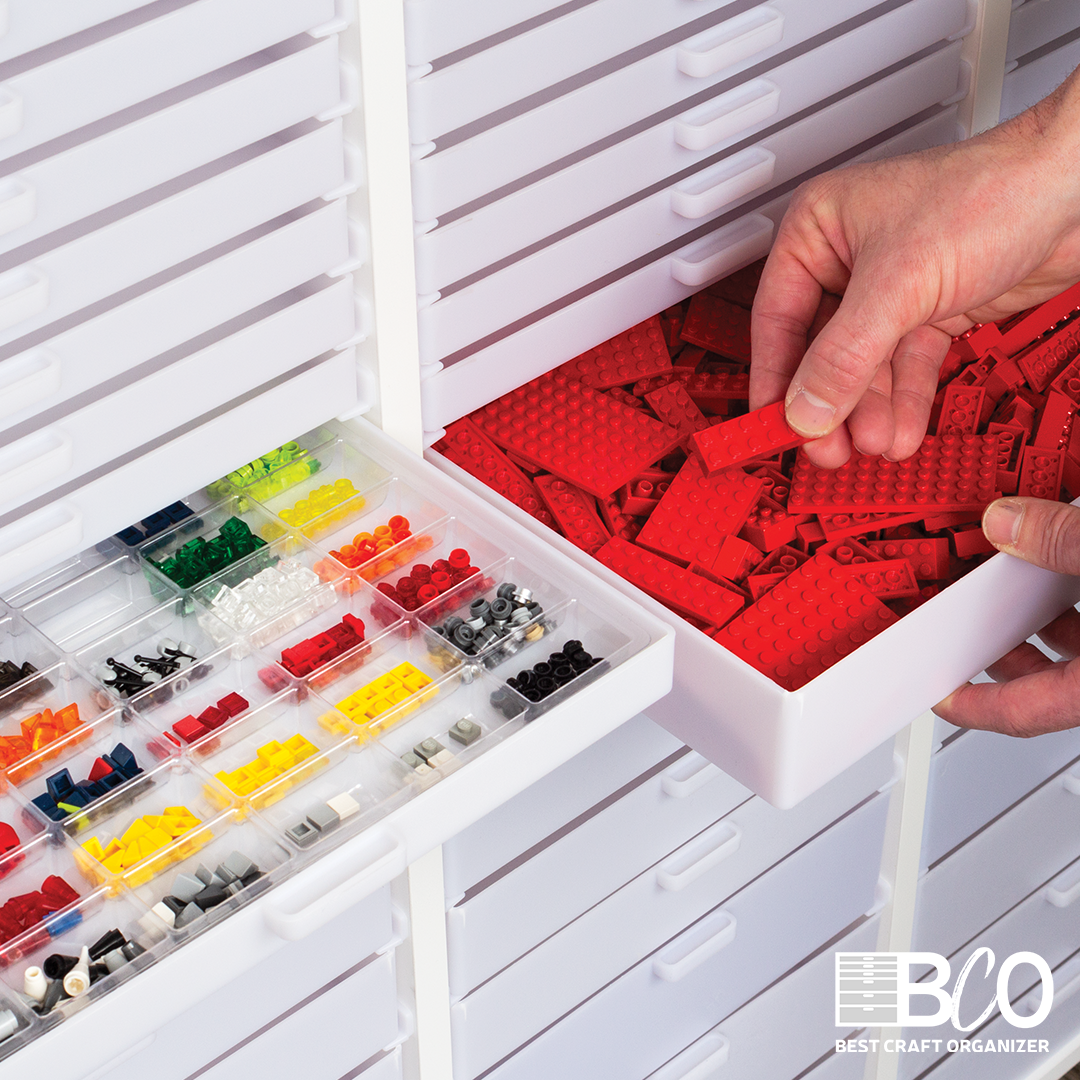 Howdy Friends,
Elphie here! I have grrr-eat news for all my Lego lovers out there. Whether you are a master builder or a humble hobbyist, we have a storage solution that's perfect for your hefty collection of colored blocks. The proper storage can help you organize all your Lego pieces in one place for easy, stress-free access.
Storage Cabinets
Best Craft Organizer Storage Cabinets are customizable to suit your taste and organization strategy, regardless of the size of your Lego collection. What better way for a Lego builder to organize their Legos than with a unit you can build and design yourself.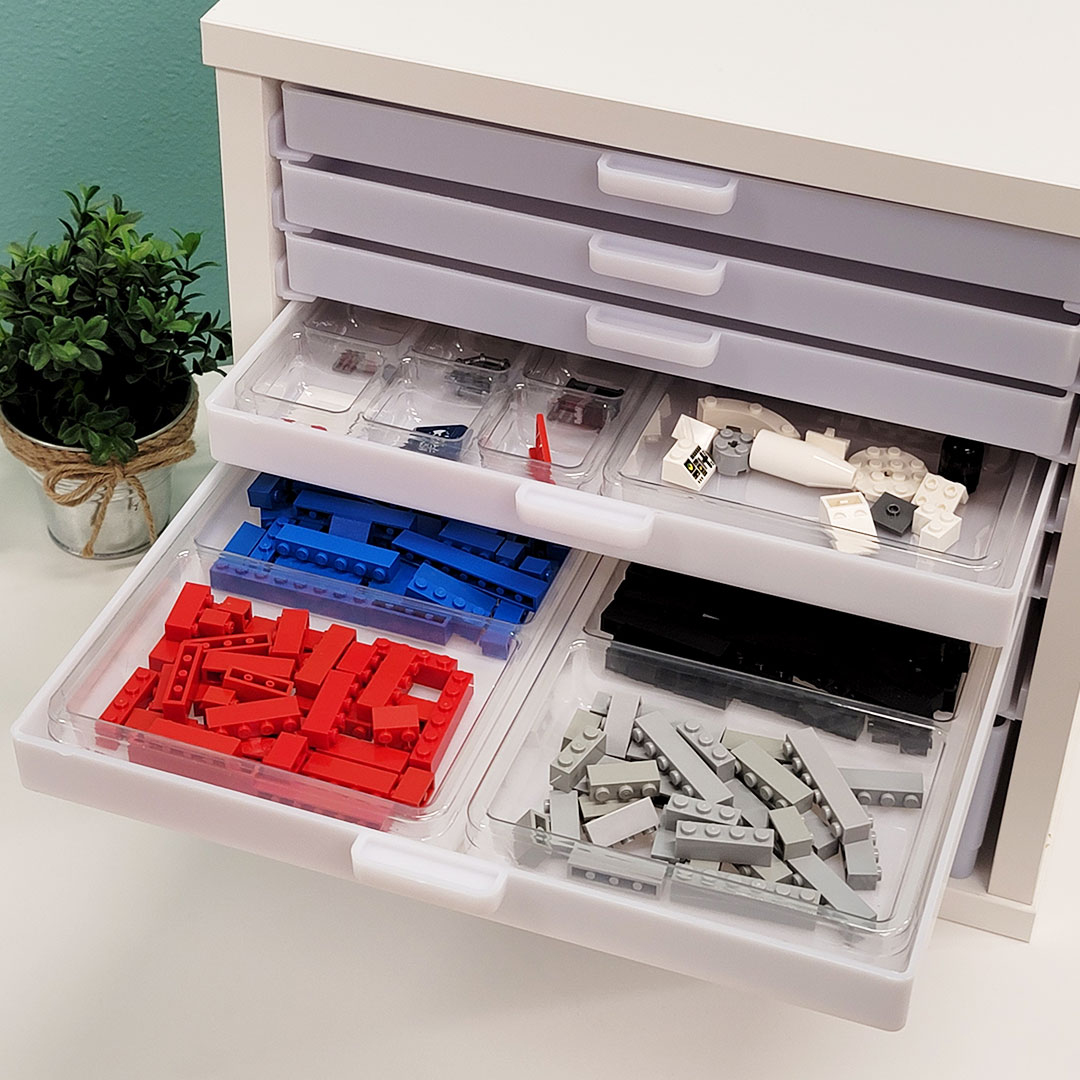 Each cabinet allows the option to customize your choice of drawers. Drawers are available in three depths: 1", 2¼", and 3⅜". If you want help configuring the drawers for your cabinet, check out our Cabinet Designer to help plan your Storage Cabinet. Depending on the size of your collection, you can assign each drawer a color or possibly a whole box-set. There are numerous possibilities!
The Storage Cube is Best Craft Organizer's smallest cabinet offering ten slots for Drawers. Choose ten 1" drawers, or five 2¼" drawers, or mix and match drawers (ex. one 1" and three 3⅜" drawers). If you are looking to add a cube to your IKEA Kallax unit or other cubed shelving units, check out our Add-on for IKEA option.
Dimensions
Storage Cube: 14" tall x 14-1/4" wide x 14-1/4" deep
Add-on for IKEA: 13-1/4" tall x 13-1/4" wide x 14-1/4" deep
The Rolling Storage Cabinet offers 18 spaces in the standard option, and 36 spaces in the large option. The customization options are endless to organize your Lego collection. With the added wheels, you can even roll your cabinet to and from your work area.
Dimensions
Standard: 24-1/4" tall x 27-3/4" wide x 14-1/4" deep
Large: 46-3/4" tall x 27-3/4" wide x 14-1/4" deep
The Double Storage Cabinet is an excellent option for avid Lego builders. The standard size can hold 36 spaces collectively, and the large size can hold 72 spaces. That means you can include up to seventy-two 1" drawers, thirty-six 2¼" drawers, and twenty-four 3⅜" drawers. I would say that's a howl lot of space for organizing.
Dimensions
Standard: 24-1/4" tall x 27-3/4" wide x 14-1/4" deep
Large: 46-3/4" tall x 27-3/4" wide x 14-1/4" deep
The Triple Storage Cabinet is our biggest storage unit yet! The Standard size can hold 90 spaces, while the large size holds a woofing 144 spaces. That's a minimum of 48 drawers! I could fetch sticks from the backyard all day long and still not fill that amount of space with my treasures. But I know you, AFOLs. If you've been collecting Legos for a long time, you'll utilize all that space while you work on ambitious, long-term constructions that are sure to amaze.
Dimensions
Standard: 39-1/4" tall x 41" wide x 14-1/4" deep.
Large: 62" tall x 41" wide x 14-1/4" deep.
To help you keep track of even your smallest pieces, consider using our Tray Inserts. You can keep heads, bodies, swords, tools, and other set-specific pieces in the tray compartments to make sure they don't get lost or end up digging into your heel while you work (ouch!). Tray inserts are available in a variety of options to fit your needs. Choose a 3 compartment for larger pieces, or a 32 Half Tray for those tiny pieces.
Build your best environment with Best Craft Organizer. Structure and organization help your creativity thrive and save time, so order a Best Craft Organizer Storage Cabinet today! Assembly is required, but I don't think you'll have a problem with that.
Wall Box
The Best Craft Organizer Wall Box is a storage solution that maximizes your wall space for organization. Simply add a Wall Bracket to your wall and hang your Wall Boxes for easy access. You can organize by color or keep full sets organized in a box.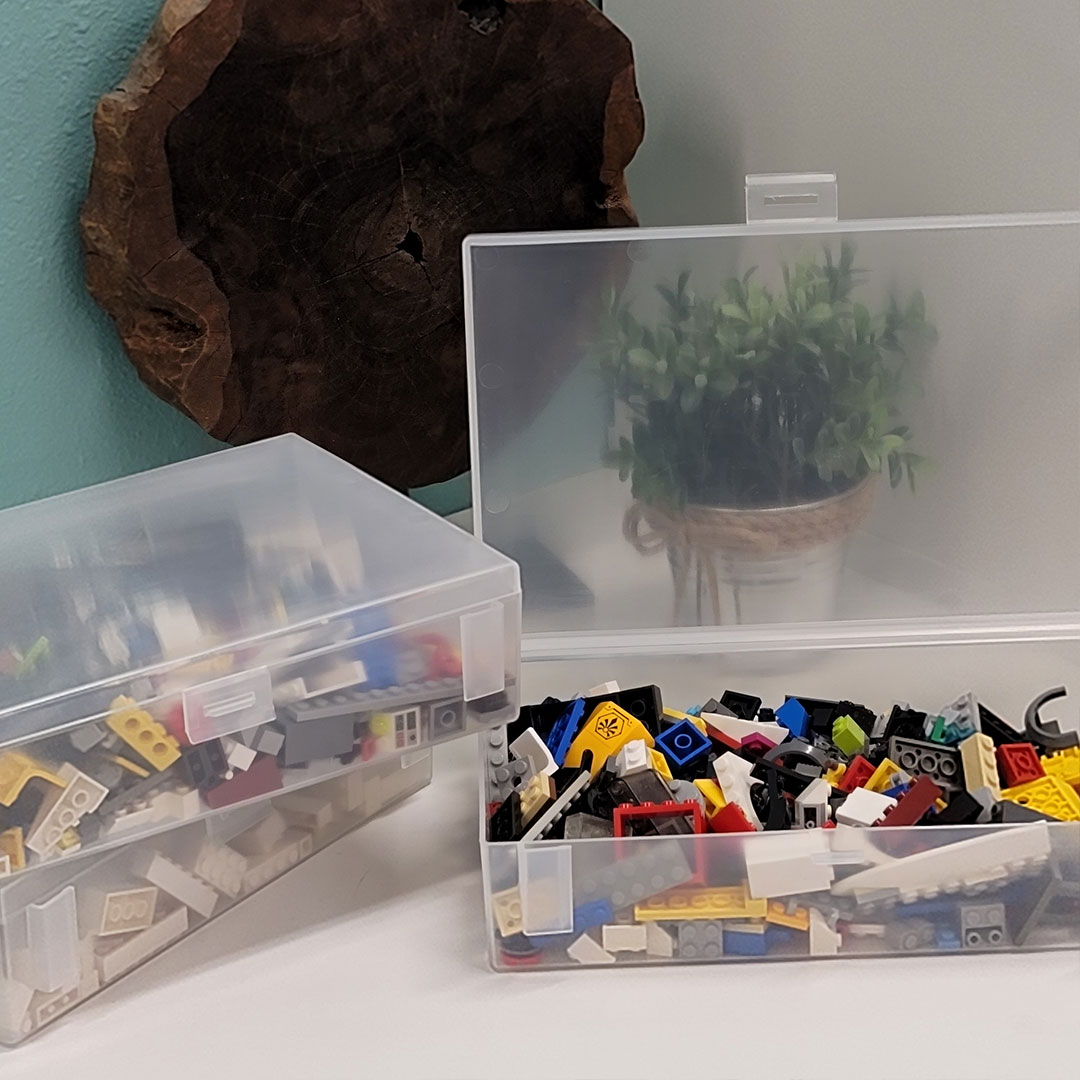 Regardless of which storage solution you choose, Best Craft Organizer offers customizable options for organizing your Lego collections. With organized Legos, you'll be ready to build your next masterpiece at any time!
Elphie
Organization Expert
Best Craft Organizer